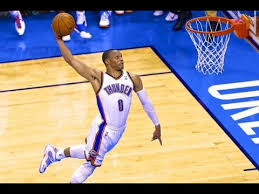 Written by Daniel Brown
22 November 2016
Safe and Speculative Plays For Tuesday Night – November 22nd 2016.
Each night of the NBA season there are different options based on the number of games available and the expected players available. Here we look at some safer plays ("Free Throw" and "2 pt" Player), some riskier plays ("3 pt" and "Half Court" players), and give you a speculative player based on pricing ("Full Court Prayer" under $4,000 Draftkings).
Check in each Tuesday and Thursday to see who is recommended for inclusion and over the course of the season we will review the hits and misses!
"Free Throw "player:
Russell Westbrook (PG – OKC - $12,500 Draftkings) – he is the most expensive player, but also yielding the most Fantasy Point Per Game ("FPPG") of available players. This season everything goes through Westbrook and so it is not surprising to see him at the top of the list in terms of price for tonight's series of games. Coming off back to back triple doubles against the Nets and Pacers the only question for tonight is whether OKC builds a lead against the young Lakers team and allows him to get some rest. Expecting this to be a high scoring game with lots of offense and if the Lakers can keep it close, which they should, then Westbrook is in a good position to return nice FPPG. He most likely won't be the difference in a tournament league, however he is a solid play in all other formats.
Season Stats: 1/1 (1pt)
"2 pt" player:
Jeremy Butler (SG/SF – CHI - $9,200 Draftkings) – Butler was everywhere on Sunday night for the Bulls against the Lakers, and while he was the beneficiary of Wade being out he should be a solid play here in tonight against the Denver Nuggets, even with Wade expected to be back in the lineup. He is averaging 42.8 FPPG this season and he should be around this number tonight.
Season Stats: 1/1 (2pts)
 "3 pt" player:
Kristaps Porzingis (PF – NY - $7,500 Draftkings) – Porzingis has been averaging just over 20 Points per Game ("PPG"), 7 Rebounds ("REB") and 1 Block ("BLK") this year while delivering an average of 35.3 FPPG. His last four games have seen at least 34 FPPG with a high of 53. The Trail Blazers come into New York following a win over the Nets on Sunday night and have shown that they can score points and so this game looks like a high scoring potential – expecting between 220 and 240 points total.  
Season Stats: 1/1 (3pts)
"Half Court" player:
Jrue Holiday (PG – NO - $6,400 Draftkings) – Holiday returned to the team after taking personal time and missing training camp and the first twelve games of the season, he has played in back to back games averaging 26 minutes per game and generating 39 FPPG. Holiday has almost a full game load against Charlotte on Saturday night scoring 22 points and 9 assists. The Pelicans go into Atlanta Tuesday night with Atlanta providing a tough match up so far this season against PGs however we still like Holiday to contribute and continue the solid start to his season for daily fantasy players.
Season Stats: 1/1 (4pts)
"Full Court Prayer" player:
Kyle O'Quinn (PF/C – NY - $3,600 Draftkings) – O'Quinn started the last game on Sunday night due to Joakim Noah being out (illness). This one is speculative mostly because of the uncertainty over whether Noah plays, if he doesn't play then O'Quinn should see decent playing time and have the potential to put up some solid FPPG in what is expected to be a reasonably high scoring encounter. Portland is a relatively easy match up for PF/Cs this year ranking 25th which should allow O'Quinn plenty of chances to put up points as long as he can avoid foul trouble which cost him some additional playing time on Sunday.
Season Stats: 1/1 (5pts)
Total Pts: 15
Follow me on Twitter: @brownsnake76