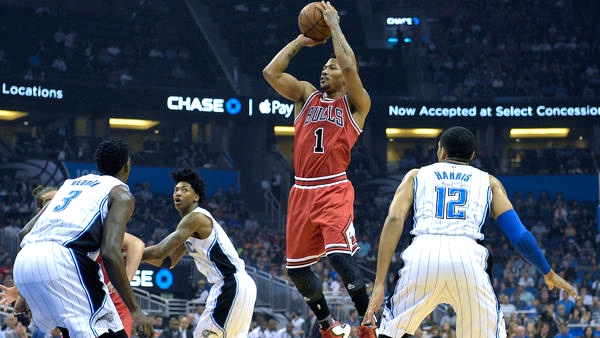 Derrick Rose's torn meniscus does not seem to be holding him back, as he had little trouble being present in Chicago's comeback win over the Heat Thursday night. Though his numbers may not have been too strong, his athletic movement indicates that he should be able to contribute heavily in the postseason once the rust wears off.
An outsider staring at statistics may see Rose's fantasy NBA performance as subpar, as he scored 12 points on just 5-15 shooting from the field, 4 rebounds, 2 assists and 3 turnovers. However, there were several times where his body language did not mimic that of a broken down scoring guard and has-been one of the best NBA players around.  
One play in particular, a give-and-go with C Joakim Noah, gave the audience a glimpse of what Rose is able to do. Rose passed the ball to Noah, cut behind him, then received a pass back and converted with a dunk from the baseline. He looked very agile, and the knee did not seem to be getting in the way of his decision-making.
Should he stay healthy, Derrick Rose could certainly lead the Bulls to at least a conference championship match up, and possibly even a spot in the NBA Finals. It'll be important to monitor Rose's minutes, and ensure his availability for the postseason, so he can play a pivotal role down the stretch. 
For the most comprehensive and latest fantasy basketball news, keep reading ASL!