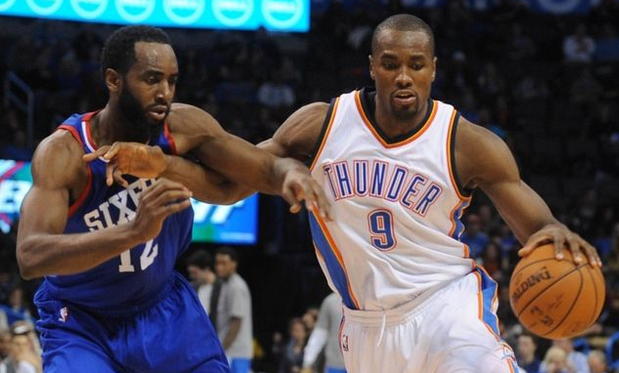 Basketball News
Fantasy basketball owners are reeling after losing Thunder PF Serge Ibaka during the first week of the fantasy NBA playoffs. Ibaka underwent arthroscopic knee surgery Tuesday and is expected to miss 4-6 weeks. The surgery to clean out his right knee puts Oklahoma City in a difficult place, as well as Ibaka's fantasy basketball owners.
The prolific shot blocker only missed 4 games total in the last 4 years, but will now be out for at least a month. He had been very productive this year, posting averages of 14.3 points, 7.8 rebounds and 2.4 blocks per contest, making him not only one of the better fantasy NBA players at his position but also very tough to replace. Ibaka is a lost cause for this season, but should obviously be retained for Dynasty and Keeper leagues.
In order to make up for this great loss, the Thunder will look for Enes Kanter and Steven Adams to step up in Ibaka's absence. Kanter will probably be the bigger benefactor, absorbing Serge Ibaka's scoring and rebounding duties. 
Kanter has turned it up as of late, going for 19.8 points and 12.6 rebounds per game over his last 5 games. He will continue to be the starting power forward and most likely even increase his production once Kevin Durant comes back and takes the attention of opposing defenses.
Steven Adams will also need to help out with scoring and grabbing boards, but his focus will have to be on protecting the rim. Over his last 5 games, he has averaged 1.8 blocks, and will continue to be prominent on the defensive end of the floor. 
If Enes Kanter and Steven Adams are available, they should be added in all standard leagues. Expect them to put up more consistent numbers as they grow more comfortable with their increased roles. Forward Mitch McGary should also see an uptick in value as one of the only valuable big men available to come off the bench.