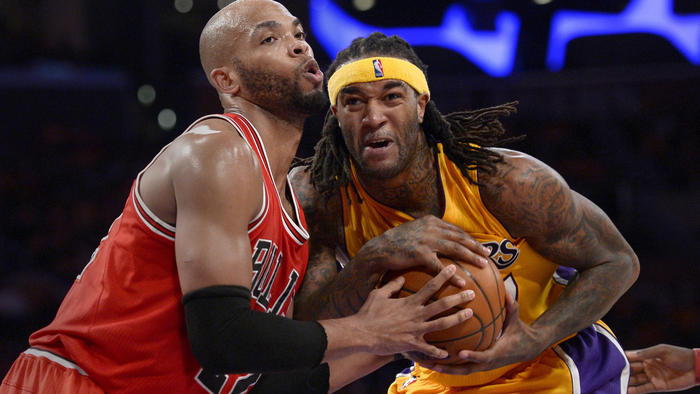 Basketball News 
Lakers PF/C Jordan Hill has been relatively successful since his return from a hip injury, putting up solid numbers in his first 5 games back. He has been strong on the glass and with Coach Byron Scott calling out his bigs for being soft, Hill's minutes are sure to rise.
Hill is having his best NBA season to date, with career highs in points, rebounds, assists, steals, blocks and free throw percentage. Since returning from injury, his numbers have been pretty consistent, and his value in standard fantasy basketball formats is legitimate, with a chance of steady increase.  
His 12.4 points and 8 rebounds per game make him worth an add if your team is in need of a big man. The Lakers have zero chance of making the playoffs and will look to continue to develop the players they look to keep in the years to come.
With Robert Sacre and Carlos Boozer most likely not in the plans for the future, Hill's minutes should extend upwards of 30 per game, making him one of the more exciting NBA players to keep on your radar. Kobe Bryant's season-ending surgery also leaves the Lakers struggling to find scoring options Hill might have to step up in that area as well. With an uptick in court time, it is not too far fetched to expect 9-10 rebounds, in addition to 14-16 points per game.
For the latest in fantasy NBA news and advice, stay tuned to ASL!