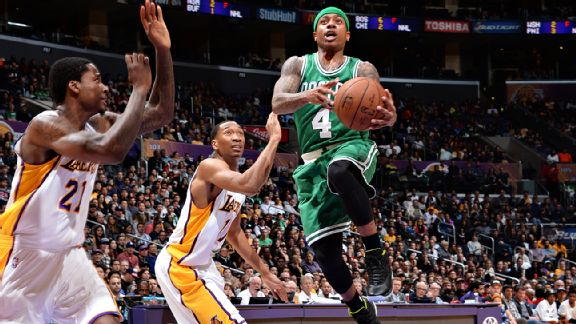 Basketball News
Newly acquired point guard Isaiah Thomas looked comfortable during his first two games with the Celtics scoring 21 points in back-to-back nights against the Lakers and his former team, the Phoenix Suns. Although he's been turning the ball over too much, he's already made a home in Boston and his role with the Celtics should continue to grow.
Celtics coach Brad Stevens seems more than happy to give the 26-year-old a full workload after Thomas played him 25 minutes on Sunday and 27 minutes on Monday. If he keeps up his current form, he will likely finish the season as a top 30 ranked fantasy NBA player and one of the top NBA players.
This season had been a rough ride for Thomas as he struggled to establish his role in a crowded Phoenix Suns backcourt with Goran Dragic and Eric Bledsoe. Now he's out to prove that he can be a leader when given the opportunity. In 2013, the 5'9" guard broke out as the starter for the Sacramento Kings, averaging 20 points, 6 assists and 3 rebounds per contest. With the Celtics' roster being much less talented, specifically in the backcourt, Thomas should get the green light to take over the offense.
The Celtics hope that Thomas will give the organization a player to build around now that he's signed to a 3-year, $19.3 million dollar contract. Look for the undersized point guard to exceed 20 points per game, and reach 5-7 assists per game as his value is sure to increase. His fantasy basketball ceiling is very high, and he's certainly worth a look through trade in standard formats for points, threes and assists.
Keep reading ASL for the best basketball news around!