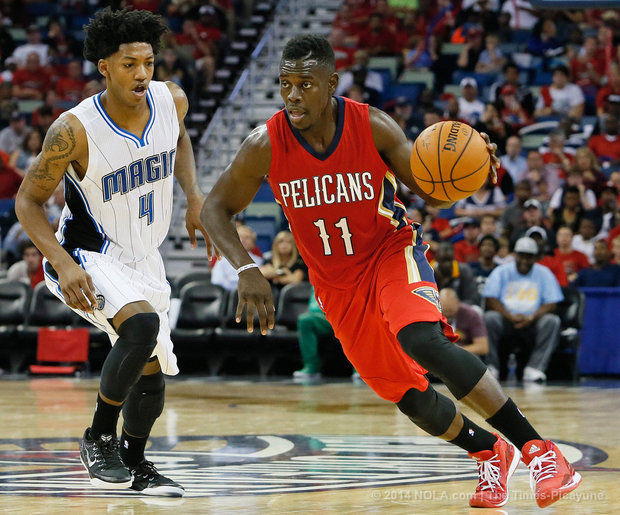 Basketball News
Pelicans PG Jrue Holiday may be close to returning from a 16-game absence and fantasy owners are praying that he's worth the wait. Owners in most fantasy NBA leagues are hoping he can provide some kind of spark during the second half of the season. 
If he returns, Holiday could also provide a major lift for a Pelicans team that only trails Phoenix by a game and half for the final playoff spot in the West. Holidays' presence on the offensive end has been severely missed, and his return could give the Pelicans the boost they need to make a significant run.
Holiday has very impressive statistics when he's on the floor, averaging 15.2 PPG, 7.1 APG and 3.5 APG in 37 appearances. His ability makes him an important asset for any basketball organization, but his role may have changed since he went out with an injury.
He had been their facilitator, but it seems that Tyreke Evans has solidified himself as the primary ball handler and distributor. Evans is averaging 7.9 assists, in addition to 16.6 points and 5.3 rebounds after taking over at point guard for his injured teammate (9-7 in the stretch). 
Due to Evans' thriving in the PG role, Holiday may have to become more of a scorer, similar to the way NBA players such as PG Kyrie Irving has given up some of his ball-handling duties to SF LeBron James in Cleveland. With his quickness and long-range jump-shot, he could be seeing a decent rise in points per game. Expect Holiday to be getting more looks than before he went down to injury, and possibly a reduction in assists per game.
Jrue Holiday is worth an add in standard fantasy basketball formats if he's still available, and is a great buy-low candidate as his production is sure to be solid in points, assists and threes.