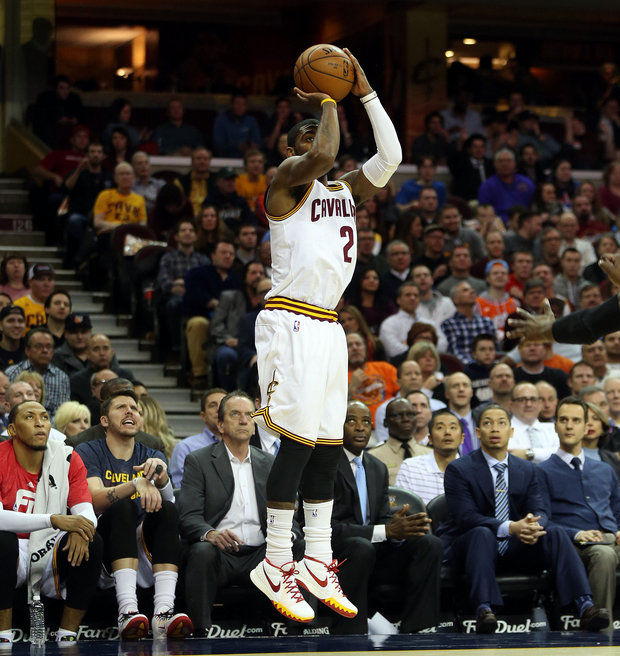 Cleveland now has the longest active winning streak with 11 straight after Monday night's win over the Sixers, and their recent success can be attributed to Kyrie Irving's stellar play. LeBron James has been in and out of the lineup while dealing with some minor injury issues, but Irving has proven his ability to lead this new-look Cavaliers franchise in one of the best NBA players' absence.
In particular, Irving's scoring has really picked up the slack in reference to scoring, putting up 30 PPG in his last 5 appearances. He hasn't just been scoring, but scoring effectively at 49% over that span, with a remarkable effective field goal percentage of 61 (due to his 25 3-point field goals).  
The major highlight of this stretch came during the Cavaliers' win at home against the Portland Trail Blazers, when Irving scored a career-high 55 points, as well as a personal best 11 3-pointers made while LeBron James was sidelined. With James' status up in the air on a nightly basis, and with PF Kevin Love struggling, Kyrie Irving's potential ceiling is very high from here on out.
Kevin Love seems to be dealing with some confidence issues, and even looks uncomfortable at times when looked upon to get some scoring production. Though he is averaging 16.9 points per game on the season, he has only eclipsed 15 points in 2 of his last 7 games. Coach Blatt has even gone with smaller lineups down the stretch late in games, leaving Love on the bench.
Irving has been a major benefactor of this new and improved Cleveland Cavaliers team, and he finally seems to be living up to all the hype that surrounded him since his rookie season. He should be able to stay present and dominant as a force on the offensive end, and his production should be steadily high for as long as he can stay healthy. This is definitely not an easy player to buy-low in standard fantasy basketball leagues, but his consistency going forward could be worth the asking price as he can contribute heavily in points, threes, and field goal percentage.
For the latest in fantasy NBA advice and basketball news, keep reading ASL!