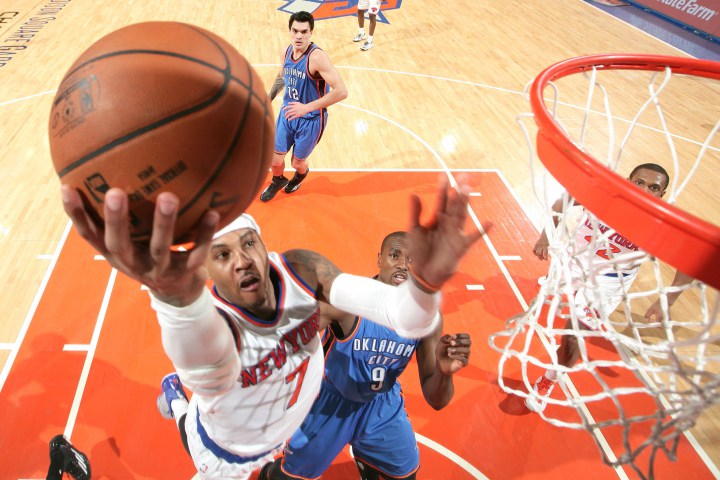 When it comes to fantasy basketball, it's never easy to unload a top notch player who is known for filling up the stat sheets. After putting up four straight 24+ point games, this may be the best time to sell high on Carmello Anthony and get something of value in return. With rumors of the Knicks star being shut down for the season floating around the basketball news arena, owners should get out while they still can! 
Anthony, one of the better NBA players, has been dealing with multiple injuries during the first season of his new 5-year, $124 million contract and his season could be coming to a close very soon. The Knicks are currently 11 games out of 8th place in the Eastern Conference, with virtually no shot of making the playoffs. New York will continue to ride out this season with one of the worst records in the league, as they hope to secure a top 3 pick in the 2015 NBA Draft.
Ideally, the Knicks would like to get their hands on the potential number one pick Jahlil Okafor from Duke University. After watching Duke take down St. John's at Madison Square Garden, Anthony praised Okafor, saying "he's got a great feel for the game and a great touch." In today's sports world, the stars of  the team usually get what they want in terms of personnel (ex: LeBron James, Dwight Howard, Kevin Love, etc.), and the Knicks will do all they can to please Carmelo Anthony by acquiring Okafor.
In addition to the draft, the Knicks will look to make major roster improvements through free agency, as they currently only have approximately $34 million in contracts for next season. The Knicks players have already tried recruiting the likes of Suns PG Goran Dragic, and Grizzlies C Marc Gasol, but the appeal of coming to New York would certainly be diminished with an unhealthy Carmelo Anthony on the roster.  
Exacerbating Carmelo Anthony's injury woes could only make the Knicks' situation worse, and they will most likely look to avoid that issue by shutting him down for the season in the recent future (2-3 weeks). Even if they decide to keep him on their active roster, Anthony missing games every so often is reason enough to dish him out for someone of equal and even slightly lesser fantasy NBA value.