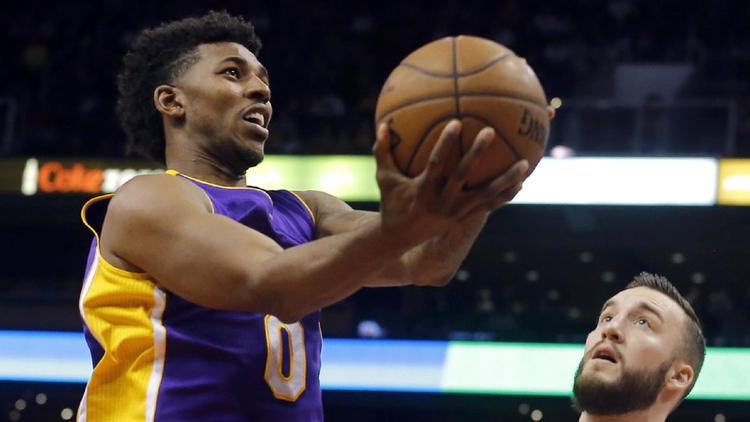 In basketball news, the season is likely over for Lakers star, and one of the greatest NBA players of all time, Kobe Bryant having been diagnosed with a torn rotator cuff. With the Lakers currently standing in 14th place in the Western Conference, the team has no reason to risk aggravating Bryant's shoulder injury. Bryant is the Lakers leading scorer and Nick Young will have to step up and lead that lackluster offense.  
Los Angeles has now lost its second player to a season-ending injury (the first being rookie Julius Randle), and their depth across the board is non-existent. Every member of the rotation will see increased playing time in order to fill the void left by one of the greatest players of all time. The most suitable replacement has to be the brash Nick Young who is nicknamed Swaggy P. who's in your face personality is always on display.
Young's season hasn't gone too well to this point. He's averaging 14.5 points per game on about 39 percent shooting from the field. Young is known for being a volume scorer, but he's yet to take more than 20 shots in any game this season. Expect that to change sooner rather than later. This is pure speculation, but Young could have been holding back in the games where Bryant was resting in order to keep the clearly defined roles in tact, but now that mentality has to be left behind. Young now has a chance to make the Lakers his team.
Though his shooting percentage still wasn't great (44 percent) a year ago, he managed to put up 17.9 points and 2.1 3 pointers per contest, and he should be able to reach that level, if not higher. Last season, Young had Gasol to help him score, but now he has even more weight to carry on his shoulders. He should receive some contribution from role players like Carlos Boozer, Jeremy Lin, Wayne Ellington and Wes Johnson, but Young will be the major benefactor in terms of scoring and 3 pointers. 
If he is available on the wire, pick up Young as a fantasy NBA option as soon as possible in what could be a very impressive end to the season for the scorer.
Stay tuned to ASL for the latest fantasy basketball news and advice!