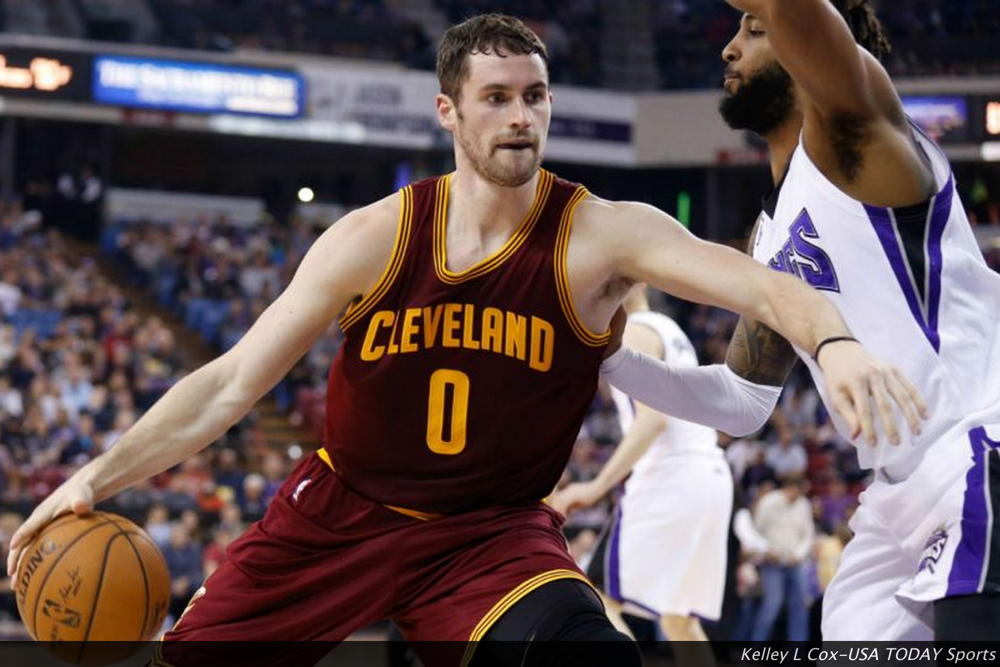 After missing his last 9 games tending to his knee and back, LeBron James returned to the court Tuesday night and Kevin Love looked lost on the court. After racking up five straight monster double-doubles with James on the sidelines, Love played just 27 minutes, shooting just 3-of-11 and grabbing 9 boards. Not a bad performance, but a shadow of what he's been up to since the start of the month.
Love, fantasy NBA stud, had really elevated his level of play as of late as he has had full control of the Cavs offense, but his role is already on the decline and he could easily become just another spot up shooter.
The Cavaliers had gone 1-8 in LeBron's absence, but the one bright spot had been Kevin Love's play. Love really turned it on after a slow start in his first year in Cleveland, averaging 23.4 points, 13.8 rebounds and 1 steal for a five game span, but that quickly came to an end Tuesday night. Coach Blatt decided to stick with a smaller lineup down the stretch and Love was benched for the entirety of the 4th quarter. His defense is a liability, and when his offensive game doesn't look strong, his weakness on the other side of the court really comes out. His lack of defense led to Suns F Markieff Morris reaching his career high in putting up 35 points in what should have been a win for the Cavaliers.
Cleveland was unable to beat the Phoenix Suns despite a major game from LeBron in his return, as well as a solid performance from newcomer J.R. Smith, simply because Kevin Love couldn't get himself involved. With a healthy Cavs team, Love serves as a barometer to represent how the team is playing as a whole and he must learn to put up numbers without being the focus of the team's offense. 
In the immediate future, expect Kevin Love to struggle to find his role on a new team with subpar chemistry, but he should be able to grow into a decent role as a 17-20 point scorer with 10-12 rebounds per game as he gets more acclimated to the offense. He will need to work on his spot up shooting as that is where he will receive the bulk of his looks in LeBron's offense, but he can definitely succeed with these limitations. It also seems as though Coach David Blatt is unable to handle his team of high profile NBA players, and will most likely be on his way out in the weeks to come. Hopefully they bring in a coach who can deal with a team of stars in Kyrie Irving, LeBron James and Kevin Love, and Love should benefit from the change significantly. 
For the latest fantasy basketball news, stay tuned to ASL!