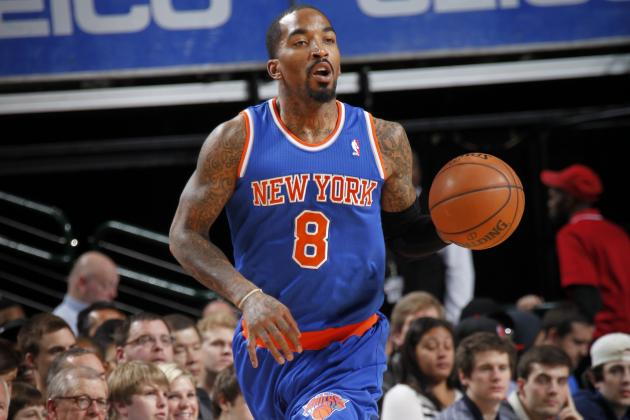 In recent basketball news, J.R. Smith could be suiting up for the Cleveland this evening after the Cavs acquired Smith and Iman Shumpert in a three-team trade earlier this week. The Knicks picked up 3 non-guaranteed contracts in the deal, acquiring Alex Kirk and Lou Amundson from the Cavaliers, and Lance Thomas from Oklahoma City. (all three players are expected to be waived). 
Smith will be a welcome addition to Cleveland, especially while one of the best NBA players alive, LeBron James, is sidelined.
That being said, Smith is currently having one of his worst seasons scoring just 10.9 points per contest on 40.2% shooting, but his upgrade in supporting cast could help those numbers rise. It will be difficult for Smith to get more than 20 minutes of playing time per game on a healthy Cavs team, fighting for minutes with Shumpert, Mike Miller and others, but could definitely make an impact. Expect Smith to struggle finding his role in the offense at first, but wind up scoring about 12 to 15 points per game in Cleveland.
As for Shumpert, he seems more like a natural fit for the Cavaliers. As long as he can stay healthy, he should come into the starting role as a defensive-minded player, who can aid in limiting opponents significantly. Shumpert is currently recovering from a shoulder injury that has kept him sidelined. As with many of LeBron's past and present teammates, Shumpert will most likely be transformed into a spot-up 3 point shooter, which could limit his value in standard fantasy basketball formats. Due to the style of play the Cavaliers endorse, Shumpert's ceiling as an asset should keep him around 10 points per game, with a couple 3 pointers, and 1-2 steals per contest. He should also make minimal contributions in assists in rebounds, as his value as a teammate will go far beyond his numbers.
Looking at the Oklahoma City Thunder, they added Dion Waiters at little to no cost, and now have another source of scoring to look to when the bench squad takes the court. Waiters will have a similar role on the Thunder as he did in Cleveland, and should continue to see upwards of 20 minutes per game. The 23-year-old guard has already received a vote of confidence from reigning and new teammate MVP Kevin Durant, who stated that the Thunder "are gonna make him feel wanted." Dion's overall production should rise slightly on his new team, but his ability to contribute heavily will be limited by Reggie Jackson's command of the second unit.
Now for the one team who picked up no players of importance, take a look at the Knicks. With Carmelo Anthony dealing with knee issues, New York had been turning to Smith to pick up the scoring slack. Since Smith and a near healthy Iman Shumpert are gone, and Anthony possibly getting shut down for the season, players will have to step up and fill the void. The first candidate for the task is second-year shooting guard Tim Hardaway Jr. Hardaway has shown his ability to provide a spark off the bench, but will now be thrust into the starting lineup indefinitely, and is most certainly worth an add in standard fantasy NBA formats.
The other man who will have to step up and take command of a weak Knicks team will be Quincy Acy. Acy has shown his versatility as of late, as he is a big man who can shoot the 3 ball, in addition to racking up rebounds and scoring in the paint. The depleted Knicks roster already had him receiving more minutes as of late due to injuries at power forward in Amare Stoudemire and Andrea Bargnani, but now he has become even that much more necessary for the Knicks. Expect Acy to take on a bigger role for this young Knicks team, and for his numbers to increase drastically, especially in points in rebounds as he gets more playing time. Shooting 52.6% from the field, and 79.1% from the free-throw line, he can most certainly be worth a look in deeper leagues for now, and could emerge as a solid option down the stretch.
It's also worth mentioning that rookie Cleanthony Early could be a sleeper pick-up as he becomes more well-oriented with the NBA style, and proves that he can do some damage as a scorer.