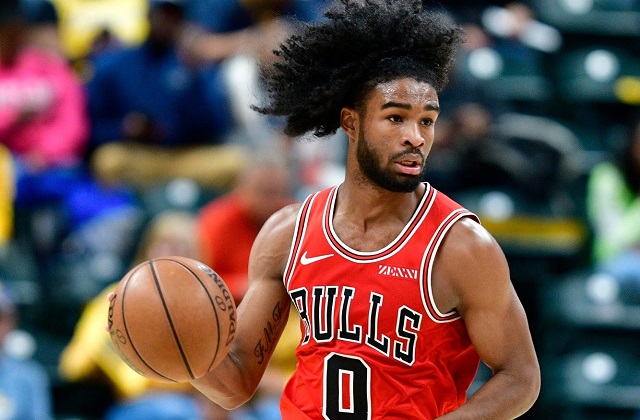 Written by Willard Simms
02 March 2020
Depending on your league rules – you have either one or two weeks left in the NBA Fantasy Season. Since the trading deadline has passed, if you're in the hunt for the playoffs, the only way to improve your team now is through the waiver wire. Look at your team needs, and see if there's anyone on the wire who might be able to help your team now, and then later help you advance once you make the playoffs.
One of the hottest ballers in the whole league has only recently come into his own. Coby White (59% owned) of the Chicago Bulls in his last 4 games has averaged 31 points (on 53.8 percent shooting) along with six 3-pointers a game, while collecting 4.5 rebounds, 2.5 assists and 1.3 steals. Yes, he's a rookie and his inexperience may cause him to put up an off night, but after creating some spectacular numbers last week, it looks like he's finally found his way. He's definitely worth a look, especially if you have anyone on your roster who hasn't been doing much lately, and White does have the advantage of playing four games this week.

Daniel Theis (52% owned) of the Boston Celtics has now won the full time center job for the Celtics. He's averaging 30 minutes and 14 points, 10 rebounds and 1.5 assists in his last eight games. Previously splitting the center minutes with Enes Kanter and Robert Williams - he recently caught everyone's attention with a spectacular game against the Minnesota Timberwolves. In that game he had 25 points and 16-rebounds, and hit six out of six free throws. It looks like Boston is going to rely on him to help their playoff positioning down the stretch, and he could help you do the same. He probably won't be as available next week, so this is the time to grab him if you need some big man help.
Mikal Bridges (63% owned) of the Phoenix Suns just got handed the keys to the Suns small forward position after Kelly Oubre went down with an injury. In his first game as a starter, Bridges scored 15 points and hit five 3-pointers, while also getting three rebounds, three assists, one steal, and one block on Saturday vs. the Warriors. His playing time has more than doubled, and I expect him to keep putting up solid numbers the rest of the way. He was the 10th overall pick in the 2018 NBA draft, and came out of college with a very solid all-around game. His future looks bright enough that you should try giving him a look.