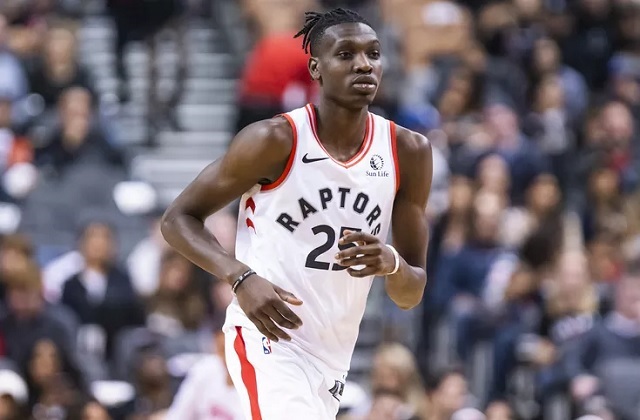 Written by Willard Simms
12 November 2019
The Toronto Raptors Chris Boucher (25% owned) is a player who rode the pine with virtually no court time until Serge Ibaka got put out of commission recently by an injured ankle. Then another key Raptor, O. G. Anunoby, didn't even finish the first quarter of the next game before he had to leave with an injury Monday night. So Boucher stepped in and got 13 points, six rebounds, one steal, two blocks and three treys in his last game, and it looks like he'll be relied upon all the more now that the Raptors are without two of their better players. Boucher was a real standout in the Las Vegas Summer League, and I expect him to continue putting up very solid numbers in the near future.
Danuel House (50% owned) is the Cinderella of the Houston Rockets. He puts in very pretty games, scoring in a multiplicity of categories, but gets virtually no attention because his three big Rocket step-brothers, James Harden, Russell Westbrook, and Clint Capela dominate the media coverage. But on Nov. 9th, versus the Chicago Bulls, Ball - House had a line of six steals along with 11 points, five rebounds, one assist, one block and three 3-pointers. Fantasy owners are starting to catch on, and while he was only 28% owned two weeks ago, now his ownership is at 50%, so better grab him quick!
Chandler Hutchison (2% owned) just moved into the Chicago Bulls starting lineup, and in his first start got 13 points, four rebounds, two steals and two blocks in less than 30 minutes. Otto Porter has been fighting through an injury all season, and it looks like he'll have to take more time off to fully heal. Hutchison proved that he deserved his spot as a starter, and I expect his minutes to only increase. Right now he's only 2% owned, so you should be able to find on your league waiver wire, and I strongly recommend you take him!
Last weeks' recommendation Kevin Huerter totaled 15 points with three 3-pointers, five rebounds and two assists in his next game, and went from 38% owned to 52 % owned. Good bargain basement players have a tendency to get bought up quickly!