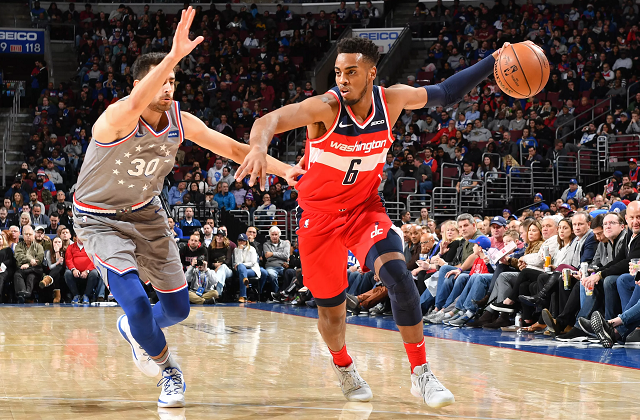 Written by Willard Simms

06 November 2019

This week I'll be listing the Yahoo and ESPN ownership percentage in fantasy leagues for each player I recommend. Last weeks' top recommendation, rookie Kendrick Nunn, was the most added player in both Yahoo and ESPN fantasy leagues, and went from a 9% league ownership to a 76% ownership in Yahoo!

Goga Bitadze (17% owned), of the Indiana Pacers, is my top pickup of the week. He's a largely unknown 20-year old from Eastern Europe, who has gained playing time with Pacers big men Myles Turner and Domantas Sabonis being injured. In his first game, he proved to be an excellent shot blocker in a limited amount of time. At 6 ft. 11 inches, he's an experienced Euro-league player who I picked up after his first game because I was trailing in blocks in one of my leagues. He promptly blocked 4 shots in his next game, and I came from behind to win the blocks category. Myles Turner isn't expected back for at least 2 weeks, and Goga has now gained the opportunity to sub for both Turner and Sabonis when they're healthy, and he's already started to get a lot of minutes right now. In the Tuesday night game he blocked 4 shots again - grab him fast!

Troy Brown (16% owned), of the Washington Wizards was the 15th pick in last years NBA draft. He had a solid, if unspectacular year as an 18-year old rookie who was still learning the game. Big things were expected from him this year, but he missed the pre-season and opening regular season games with a minor injury. He's healthy now and already showing good versatility, garnering 14 points, 10 rebounds, and 3 steals in his Nov. 3rd game. With John Wall out for the season, the Wizards are desperate for scoring! Brown is only going to get better as his playing time increases, and I expect his learning curve to continue its upward direction.





Second-year Atlanta Hawks player Kevin Huerter (38% owned) has been on a minutes limit because of an injury that's slow to fully heal. But it was announced today that the Hawks John Collins is now suspended for 25 games for violating the NBA's anti-drug program! Atlanta needs someone to replace Collins scoring average of 17 points a game. Although Huerter plays guard, he sometimes fits into the small forward slot and that versatility will be needed. Collins loss will have to be picked up by the whole team, and I think Huerter may be the one who gains the most, since Atlanta likes to play a lot of pick-and-roll offense, and that happens to be a Huerter specialty. In his last game the former First Round draft pick was in four pick-and-roll possessions in just 20 minutes, and his team was able to score in all four. And at 6 feet 7, he can get off his three-point shot (he averaged two makes a game in limited minutes last year) over most perimeter defenders. And as of Tuesday night, his minutes limit was extended by 5 more minutes a game.