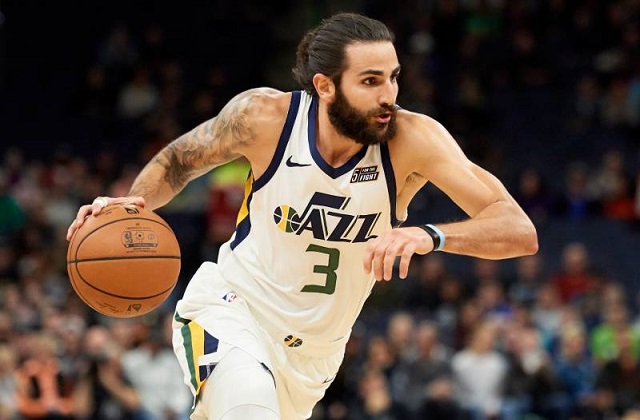 Written by Willard Simms
21 September 2019
So Ricky Rubio, as a member of the Spanish National Team, is the Most Valuable Player of the 2019 FIBA Championships. He was a near unanimous choice, and quarterbacked the team masterfully throughout the games. Do we think this will have any effect on his NBA 2019-20 fantasy value?
My answer is a decidedly "yes"! First, he's going to be playing for a new team, the Phoenix Suns, that will be a similar kind of fit to what his Spanish National team was. A team that needs a master ball handler who can get passes to anyone on the team who's in a good position to score. Last year playing in Utah he shared ball handling duties with Donovan Mitchell, and was also expected to put up his share of 3-point shots, which has never been his specialty. Both his 3-point shooting percentage and his overall field goal percentages were among the worst of his career. On the Suns he won't be forced to shoot the ball as much, but will be expected to increase his assists dramatically.
Also, in Phoenix he'll have one of the top scorers in the league as his back court mate. Devin Booker last year averaged over 26 points a game, without the kind of quality passer that Rubio is to help him. At 22 years, Booker is the fifth player in NBA history to record three 50-point games before turning 25, putting him in the company of Wilt Chamberlain, Rick Barry, Kareem Abdul-Jabbar and LeBron James. And that was with him having to create most of his own shots!
Also last year, DeAndre Ayton, the 7-foot center from the Bahamas, averaged in the high teens in points per game during the last half of his rookie season. Steve Kerr has said repeatedly that most NBA players make their biggest leap forward between their first and second seasons. I believe Ayton will be one of those players that makes that big leap, especially with Rubio able to get him the ball in great position to score in the low post.
Dario Saric is a good addition to the Phoenix roster, and as an International player, he's very familiar with Rubio's game and will be chomping at the bit to feast on his no look passes. All in all, Rubio should be taken somewhere between the sixth to eighth round of fantasy drafts. Since he is now projected to go around round nine, you have a great chance to pick up a player that is undervalued, and will be one of the fantasy leaders in assists and steals!