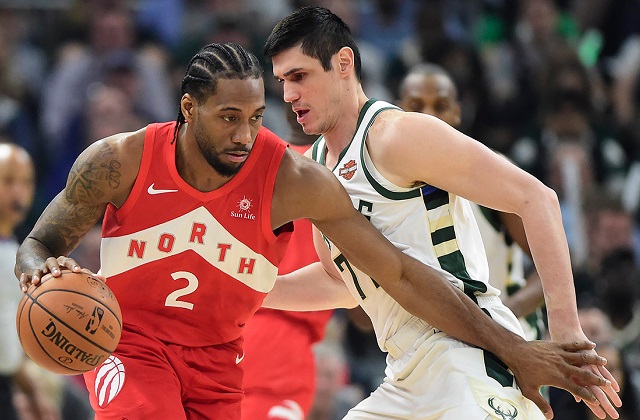 Written by Todd Lewys
24 May 2019
Prior to the start of the NBA's 2018-2019 season, the Toronto Raptors dropped a bombshell.
After suffering disappointing second round losses in 2017 and 2018, Raptors' president Masai Ujiri and general manager Bobby Webster decided they needed to change the chemistry of their team.
Just like that, scoring star DeMar DeRozan, Jacob Poeltl and a first-round draft pick were dealt to San Antonio in exchange for Kawhi Leonard and shooting guard Danny Green.
In making the trade, the Raptors clearly hoped that Leonard - the 2014 NBA Finals MVP and two-time defensive player of the year (2015, 2016) - would be a difference-maker, a bonafide star who could lead the team on a deep playoff run, perhaps one that resulted in a berth in the NBA Finals.
The trade was a big gamble for two reasons. First, Leonard was recovering from a debilitating quad injury. Second, he was set to become a free agent at the conclusion of the 2018-2019 season.
Well, the calculated gamble has paid off.
The Raptors now find themselves just one win from advancing to the NBA Final for the first time in team history thanks to the irrefutable star power that Leonard has brought to the team.
And while Leonard isn't solely responsible for Toronto being on the verge of a Finals berth, he's played a central role in helping them advance to within a whisker of playing for the NBA title.
The 6' 7" small forward has been all - and more - than the Raptors hoped he would be.
During the Raps' playoff run, he's averaged over 30 points per game and has pulled down eight rebounds per game. His defense has been tenacious and his will to win - as quiet as it is - has been obvious. The man just never quits.
Most importantly (sorry DeMar), he's consistently delivered when he's been most needed - clear evidence of that is the high-arcing, rim-rattling shot he somehow made over Philly's Joel Embiid to send the Raptors to the Eastern Conference final.
Leonard has continued to deliver against the Milwaukee Bucks, making key buckets and shutting down Bucks' star Giannis Antetokounmpo. His hustle and physicality has been infectious. His unwillingness to give up at any time has spurred his Raptors teammates on to new heights.
He is a true star, possessing the ability to take a team on his shoulders and lead them to victory through sheer willpower.
All of which makes the soft-spoken Los Angeles native a legitimate playoff MVP candidate. Should he lead the Raptors to the NBA Finals, he - like the Warriors' Steph Curry - should merit strong consideration for the award.
If he wins the award, Leonard will have done it by talking softly and letting his on-court play speak to his all-around greatness as a player.