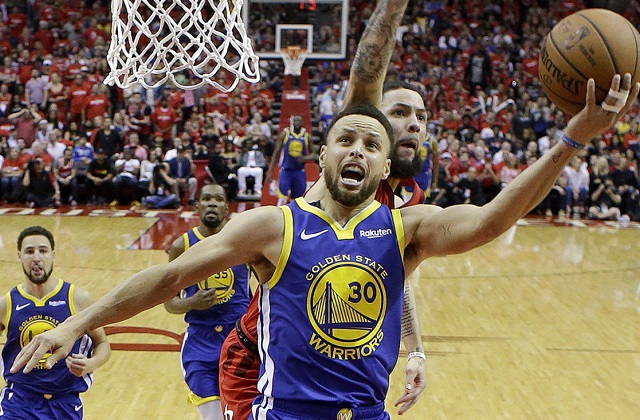 Written by Michael Morrow
14 May 2019
(1) Golden State Warriors vs. (3) Portland Trailblazers
Game 1 – Tuesday, May 14th @ 9:00pm (EST) – Broadcasted on ESPN
Line: GSW -7.5 – O/U 220.5 – William Hill
Death, Taxes, Golden State in the NBA Finals. That's how it goes right? For the first time since 2014 we will not see a Cavaliers vs. Warriors showdown for the Larry O'Brien trophy. This matchup is intriguing; however, I'm still going with the reigning champs. Even with the uncertainty of Kevin Durant's injury, this Warriors team is still going to come out of the west.
Portland finally made the jump this season, cruising past the Thunder with relative ease. Damian Lillard and CJ McCollum are finally getting the superstar recognition they deserve with an impressive game 7 win in Denver this past Sunday. However, I do not see the Trailblazers having enough fire power to get past this Warriors team, with or without Durant.
Golden State is exactly where everyone thought they'd be when the season started – well, everyone except Lakers fans. Even without DeMarcus Cousins and Kevin Durant, the Warriors closed out the Rockets in 6 games, forcing Rocket's owner Daryl Morey to send his annual congratulations tweet to the Warriors – man,if you're a Rockets fan, that's one depressing twitter timeline: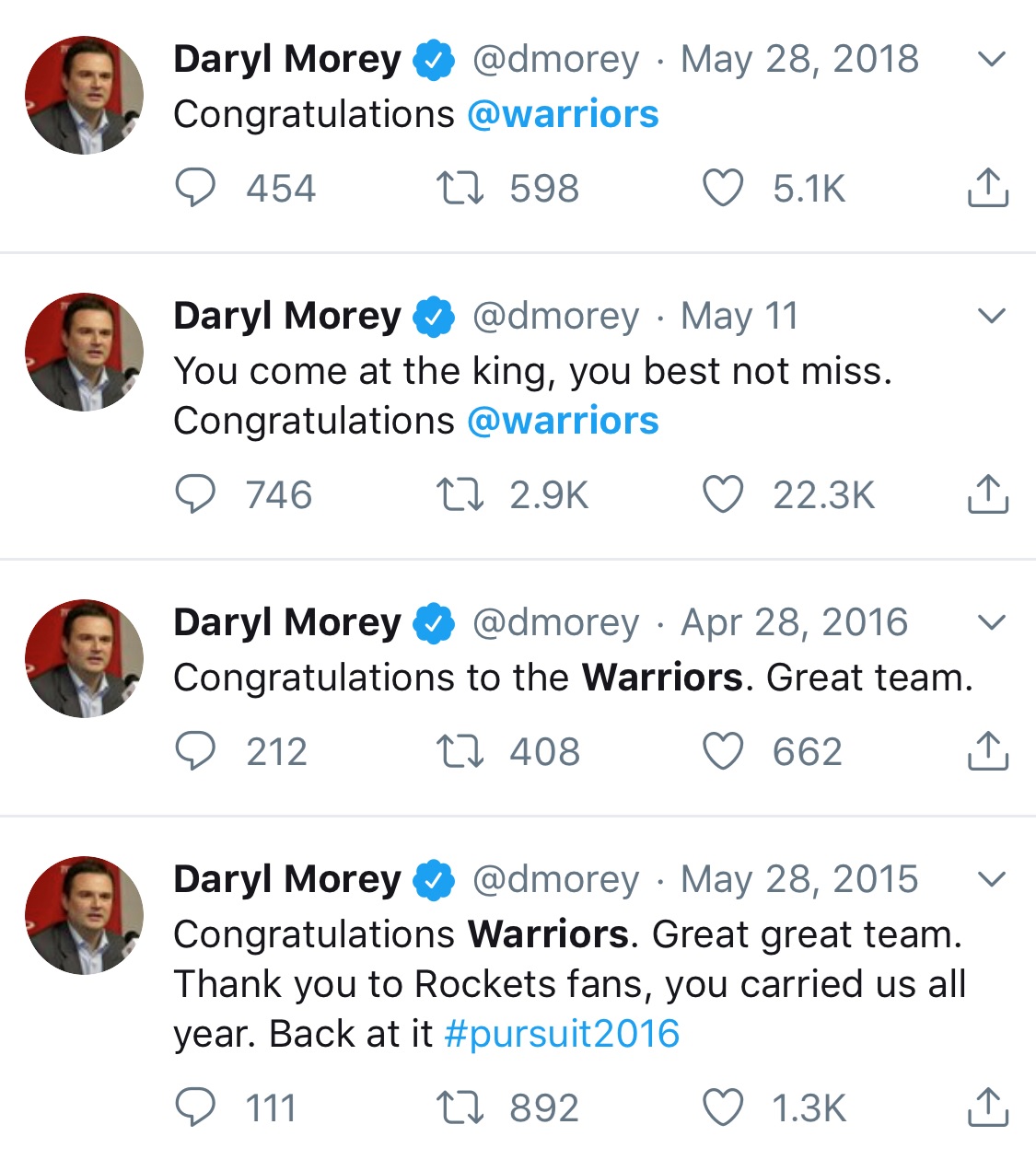 This series should be a fun one to watch, but I still think the Warriors represent the west (again) in the NBA Finals.
Prediction: WARRIORS in 6

(1) Milwaukee Bucks vs. (2) Toronto Raptors
Game 1 – Wednesday May 15th @ 8:30pm (EST) – Broadcasted on TNT
Line: MIL -6 – O/U 218 – William Hill
Now this, this is going to be a great matchup. Toronto is coming off one of the biggest games in franchise history with a huge game 7 win over Philadelphia. In perhaps a one in a million shot from Kawhi Leonard, the Raptors will get a chance to prove themselves against Giannis Antetokounmpo and the Milwaukee Bucks.
I can't deny it, I didn't think Toronto would ever get to this point. All those years of LeBron just killing their dreams made me buy into the stigma that they can't win the big ones. That is all in the past as Raptor's GM Bobby Webster proved that shipping Demar Derozan to San Antonio for a guy who could potentially walk (and still might) this summer might be worth it – oh, and shout out to Danny Green, a real gem in that trade.
Milwaukee took a big L in game 1 against the Celtics and my initial thought was that this team won't be able to get past anyone without surrounding Giannis with shooters the way Miami and Cleveland surrounded LeBron. Welp – I was BIG wrong. The Bucks went on to win the next 4, erasing any doubt that this team can contend, and contend right now.
"The Klaw" vs. "The Greek Freak," this ladies and gentlemen, is going to be good.
Prediction: BUCKS in 7