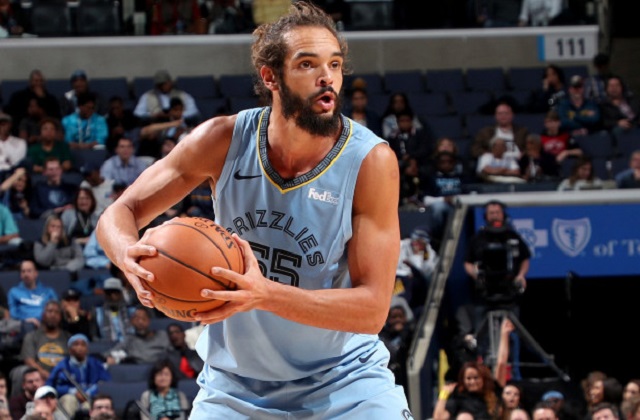 Written by Willard Simms
05 March 2019
Whether you're in a weekly contest where you change teams every week, or this is the last week before your Fantasy League Playoffs begin, there are 5 largely unwanted players that have recently become absolute "must play" ballers.
Joakim Noah: Let's start with Joakim Noah, who was washed up on the shores of the Hudson River and left for dead in New York. He's suddenly changing the Memphis Grizzlies from a steady loser into a late season winning team. He has averaged 22.9 minutes, 13.9 points, 8.5 rebounds, 3.6 assists, 1.4 blocks, and 0.5 steals, while shooting 58.5 percent from the field since he got real playing time with the Grizzlies. With Ivan Rabb injured, Noah looks like his old self again, and definitely deserves a place on your roster!
Cheick Diallo: Anthony Davis is now on a minutes restriction for the New Orleans Pelicans, and can't play more than 20 minutes a game. Diallo is the 41st ranked player in standard leagues over his past six games, despite playing less than 20 minutes a game, posting 11.7 points, 8.8 rebounds, 1.0 steals and 0.8 blocks and an incredible 78.9% from the field. Jahlil Okafor is injured and so Diallo is only going to get more minutes from here on. If he's on the waiver wire in your league grab him, and if you can still buy him cheap for weekly leagues go get him!
Robin Lopez: Lopez was dropped by many fantasy teams because of all the replacement rumors surrounding the Chicago Bulls, but no one came in to replace the traded away Bobby Portis. So Lopez is now playing over 30 minutes a game, and has been a top 50 player in Yahoo leagues with 16.9 points, 5.4 rebounds, 1.6 assists and 2.1 blocks on 61.3% from the field and 79.2% from the line. He's going to be a solid contributor for the rest of the fantasy season, so take a shot on him.
Cody Zeller: Zeller was on and off the injury list for the first half of the season, and was never at full strength when he played. But he's been healthy since the All Star break, and is recently proving to be a solid fantasy contributor for the Charlotte Hornets, averaging 13.3 points a game, 9.3 rebounds, 2.1 assists, 0.9 steals and 1.0 blocks on 57% from the field and 74.1% from the line. That's solid production that puts him in the top 90 fantasy players of late.
Avery Bradley: Bradley is another player who seems to have found new life with the Memphis Grizzlies. He went from being a fantasy baller ranked outside the top 300 with the Los Angeles Clippers, to a top-75 player over his last six games with 17.8 points, 4.0 rebounds, 4.0 assists, 1.0 steals and 1.8 triples starting for the Grizzlies. He's become one of Coach J.B. Bickerstaff's favorite players, and has been on the court for nearly 35 minutes a game in every game he's played.