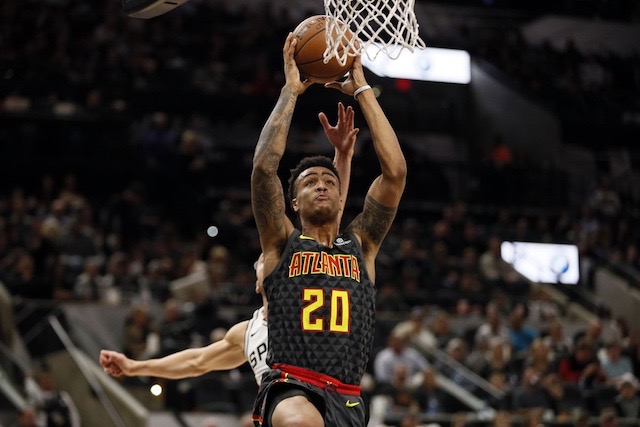 Written by Willard Simms
29 January 2019
John Collins (96% owned in Yahoo leagues) of the Atlanta Hawks is really tearing up the league right now - he's averaging more than 22 points a game in his last 10 contests and his 3-point shooting is only getting better. Despite missing several weeks because of injuries, he still averages nearly 20 points and 10-plus rebounds per game. 
His field goal percentage is a fantastic 59%, and he rarely dips below 50%.  Collins is already one of the best big men in the league, but because he doesn't get a lot of blocks, he's still under rated in fantasy. The bottom line is, the time to make a trade for him is right now because he's looking at a monster second half of the season. 
Build the best lineups with the power of The Machine for Daily Fantasy Sports  
And as I mentioned, he's now added a three point shot to his repertoire. During his last 4 games, he's hit 10 out of 15 three pointers, in other words he's shooting 67% on the three ball!  Oh, and did I mention that he shoots over 70% from the free throw line? It is VERY RARE to find a player who posts 20 points plus 10 rebounds a game player and who won't cost you a thing in any of the percentage categories.  
Collins is just beginning to get mentioned in the Most Improved Player category. If he continues to play at such a high level, he has a great chance to win it. With the Atlanta Hawks dealing with a lot of injuries, they've come to rely on Collins, and look to him when they need baskets at the close of games.   
You'll need to make a very good offer to get him, as this is one player I wouldn't recommend sending out a low ball bid on.  He plays for a team that doesn't get much attention, and isn't even trying to make the playoffs at the moment.  But the one thing Atlanta is doing – is trying to develop their young players – and Collins will only benefit from that. Shoot out a few offers sooner than later.
Never miss ASL's latest fantasy sports news.
Send us an email at This email address is being protected from spambots. You need JavaScript enabled to view it. and list the sports you are interested in (NFL, NBA, MLB, NHL) to start receiving ASL's newsletter.