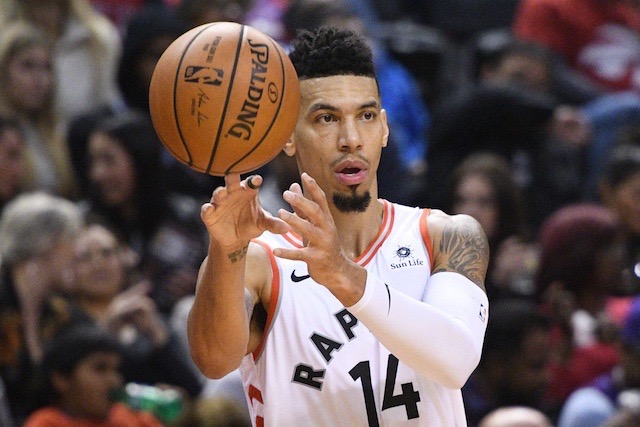 Written by Ernesto Delgado
25 January 2019
As the weeks go by, working the waiver wire becomes a bit more challenging and a bit more imaginary. To grab the edge against your opponents, you must be willing to take statistically balanced risks on players to add to your roster. With constant shifts in rotation, trades, and injuries, one must be aware of the opportunity and be willing to pounce on it. Having said this, a player worth adding into your roster is currently owned in 45% of leagues and has had his moments of rises and dips. Playing as a short forward for the Toronto Raptors, Danny Green has shown great shooting and has been a solid defensive player.
Build the best lineups with the power of The Machine for Daily Fantasy Sports
During his last five games, he's been averaging 12.8 points, 4.2 rebounds, 1.8 assists, 0.8 steals, 0.6 blocks, in 26 minutes of game time. Green has made it clear that he possesses talent that shouldn't be ignored. On Saturday, Green erupted for a season-high 24 points by gaining seven rebounds, three assists, a block, two steals, and eight 3-pointers in 23 minutes against the Memphis Grizzlies. In addition, he's been somewhat of a 3-point maestro by scoring double digits in four of his last five games along with exhibiting stout rebounding numbers.
With the Houston Rockets and Dallas Mavericks up next, you can count on Toronto to rely on Danny Green. He's coming off of a loss against the Pacers, but he was able to score 10 points along with five rebounds, three assists, and two 3-pointers in 27 minutes. Currently started in 26% of leagues, he is bound to bounce back and put up safe numbers both offensively and defensively.  Danny Green is a reasonable fantasy asset in 12-team leagues and is worth the risk if you're in need.
Never miss ASL's latest fantasy sports news.
Send us an email at This email address is being protected from spambots. You need JavaScript enabled to view it. and list the sports you are interested in (NFL, NBA, MLB, NHL) to start receiving ASL's newsletter.