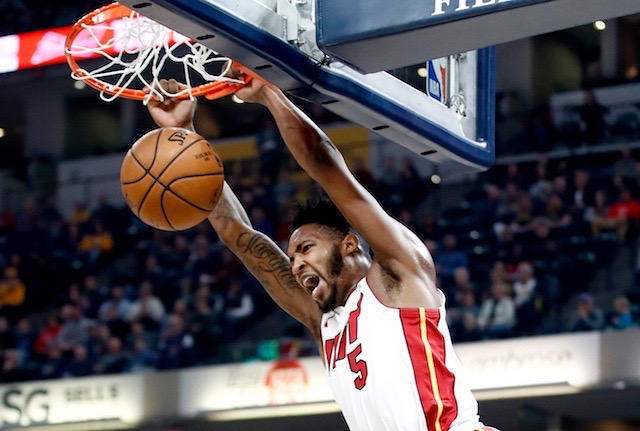 Written by Willard Simms
25 January 2019
Derrick Jones
The Miami Heat sport a player, Derrick Jones Jr. (5% owned in Yahoo Leagues), who has the intriguing nickname of "Airplane Mode". He's a real high flyer who is only 21, and getting more and more time on the court these days. In his last game, Jones Jr. scored 18 points with 9 rebounds and one three pointer.  You can't teach jumping ability and Jones really lives up to his nickname around the rim. His problem has been limited playing time in the Miami rotation scheme.  But it looks like he's now become an Eric Spoelstra favorite, and you can expect both his minute totals (and fantasy stats) to keep trending upwards.
Build the best lineups with the power of The Machine for Daily Fantasy Sports
Bismack Biyombo
The Charlotte Hornets Bismack Biyombo (13% owned in Yahoo Leagues) is getting more playing time with the injury to Cody Zeller. Right now he's a good source of rebounds and blocks, without costing you too many turnovers.  Of course this is strictly an injury related play, as Biyombo has proven to be an inconsistent player in the past.  But someone has to take up the Big Man role for the Hornets, and in his last two games Biyombo has gotten a total of 25 rebounds and 6 blocks. He is capable of putting together good games when he gets the chance, and until Cody Zeller returns, it looks like he'll be a good investment.
Luke Kornet
Luke Kornet (7% owned in Yahoo Leagues) of the New York Knicks was just starting to come on, when he injured his ankle.   He's expected to be on the Injured List for the next couple weeks, but Enes Kanter has fallen out of favor and is probably out of New York soon, while Mitch Robinson is still inconsistent and a work in progress. In the two games before his injury, Kornet scored a total of 39 points, hit seven 3 pointers, and had a shooting percentage over 50%.  He's a young player worth a stash, especially if he can come back in less than the expected 2 weeks.
Terrance Ferguson
Terrance Ferguson (3% owned in Yahoo Leagues), of the Oklahoma Thunder, has drained fourteen 3 pointers in just his last 4 games. During that span, He's also averaging 14 points and 2 steals per game.  He's a replacement for the injured Andre Roberson, and in the only game this season where he had more than 40 minutes on the court, he scored 21 points. But be careful, he's prone to very good fantasy stats one game, and very bad stats the next.
Michael Beasley
Is Michael Beasley (1%owned in Yahoo Leagues), really on this list?! The Los Angeles Lakers continue to struggle without LeBron James on the court. During his prolonged absence, none of the Laker starters have been able to increase their scoring enough to pick up the slack. It's been almost completely forgotten that Beasley was the Number 2 pick in the 2008 NBA Draft.  The only thing that's been consistent about him, is his lack of consistency! But he's picked up lately and has the occasional flash of brilliance that could provide a spark for your fantasy team.
Never miss ASL's latest fantasy sports news.
Send us an email at This email address is being protected from spambots. You need JavaScript enabled to view it. and list the sports you are interested in (NFL, NBA, MLB, NHL) to start receiving ASL's newsletter.