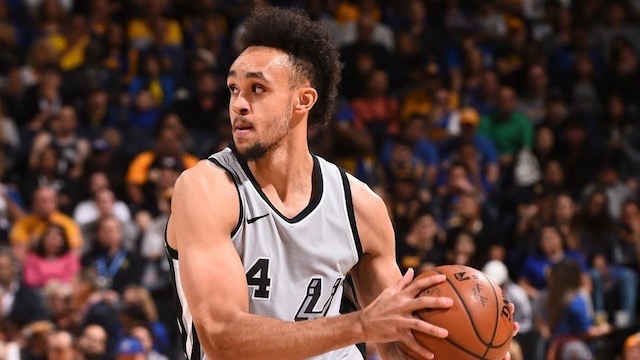 Written by Michael Morrow
18 January 2019
A slight bump in playing time for the Spurs guard Derrick White seems to be making a world of difference in his production during the month of January. During the course of the season, White averaged only about 8 points per game with a sub .500 field goal percentage, but with more playing time, his scoring average has nearly doubled. During the month of January, White is averaging 15.3 points with a shooting percentage .613.
Build the best lineups with the power of The Machine for Daily Fantasy Sports
ESPN lists White as third on the Spurs depth chart behind Bryn Forbes and Patty Mills, but that won't last if he keeps playing at his current level. While Forbes is playing the most at 28.5 mpg, White is playing 24.3 mpg and Mills falling closely behind at 23.8 mpg. Gregg Popovich is a accomplished master at getting best out of his players, rotating guys in and out to keep their legs fresh throughout the season.
Again, its worth noting that White has seen an upswing in minutes since mid December, starting the last 18 of 19 games, and in that stretch the Spurs are 14-6. In his last ten he is averaging 30.7 mpg, translating to 15.6 ppg on 64% shooting, including a productive 54% from deep. With 5 of their next 10 games coming against sub .500 teams, look for White to continue this hot streak and keep his minutes per game going in the right direction. If you have room on your fantasy roster, he's a player worth taking a chance on.
Never miss ASL's latest fantasy sports news.
Send us an email at This email address is being protected from spambots. You need JavaScript enabled to view it. and list the sports you are interested in (NFL, NBA, MLB, NHL) to start receiving ASL's newsletter.