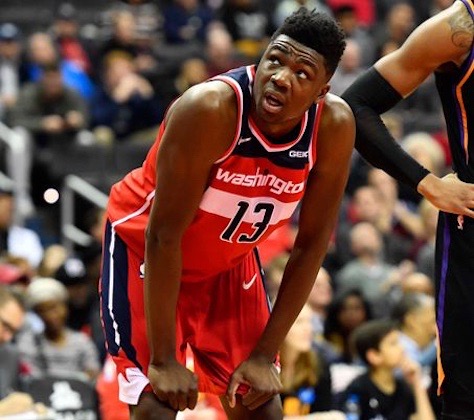 Written by Ernesto Delgado
16 January 2019
During his last ten games, Washington Center Thomas Bryant is averaging 12.7 points, 7.3 rebounds and 1.1 blocks per contest. The Wizards could certainly use the help, so it's a bit of mystery why he's not playing at least 30 minutes per game. Building a great rapport with shooting-guard Bradley Beal since the departure of John Wall, Bryant now leads all playing centers in true shooting percentages.
Build the best lineups with the power of The Machine for Daily Fantasy Sports
Against the Philadelphia 76ers, Bryant was able to post nine points along with six rebounds, two assists, one steal, and one 3-pointer in just 14 minutes.  In addition, he posted an 18-point game against the Toronto Raptors along with an 11 rebound double-double, two assists, one steal, two blocks, and four turnovers. As we have witnessed, when he's been given the opportunity, Bryant has posted double-digit numbers in each game he's played at least 20 minutes without Markieff Morris (neck) in the mix.
With Dwight Howard (back) still out and lack of clarity on Morris's recovery, Thomas Bryant will continue to play an important role in the Wizards' offense. Early in the season, Bryant showed us his ceiling as he achieved a perfect 14-for-14 for 31-points in 36 minutes of playing time along with 13 rebounds and 2 assists. He's a young player that plays with a lot of passion and is praised by all members in his team. He has clearly earned more playing time on the court and is owned in just 21.7% of fantasy leagues. It's time to make the move for Thomas Bryant.
Never miss ASL's latest fantasy sports news.
Send us an email at This email address is being protected from spambots. You need JavaScript enabled to view it. and list the sports you are interested in (NFL, NBA, MLB, NHL) to start receiving ASL's newsletter.