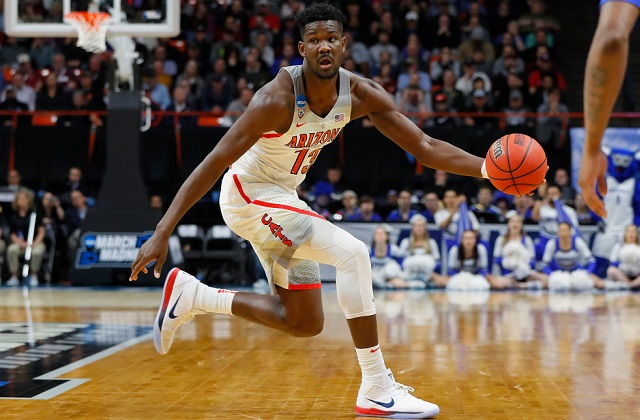 Written by Ernesto Delgado
08 January 2019
The Phoenix Suns have had a rocky season, but they have shown fantasy potential. Having drafted Deandre Ayton as the number one pick in the draft this year, the Suns have been putting him to good use as the option 1b alongside Devin Booker. Unlike many centers, Ayton has been strong in the FT line and has been an elite fantasy player since the start of the December. While making 67.0% of his 15.2 shots attempts per game, he has averaged 21.4 points, 13.3 rebounds, 1.3 steals, 0.7 blocks, and 1.3 assists over his 10 previous games.

Although Ayton's been having a great rookie season, his fantasy output has been inconsistent at times. For instance, during the Clippers game, he crushed fantasy owners by posting only 4 points, 5 rebounds, 3 assists, and 1 block in the 27 minutes on the floor. Outputs like these can discourage owners enough to bench or even trade him away. If you don't already own him, look for opportunities like these to acquire him as he should be fine moving forward. Owners that held onto him or traded for him, rejoiced as he bounced back against the Charlotte Hornets with 19 points, 9 rebounds, 2 assists, 1 steal, and 1 block in 31 minutes.

Although the Suns can be seen as one of the weaker teams in the west, they know how to keep fantasy players content. They are looking to build up their young, talented core that is comprised of Devin Booker, Deandre Ayton, and newly acquired Kelly Oubre Jr.  As the team improves, so will Ayton's fantasy numbers as he has the potential to be a double-double machine.
Build the best lineups with the power of The Machine for Daily Fantasy Sports.
Never miss ASL's latest fantasy sports news. Send us an email at This email address is being protected from spambots. You need JavaScript enabled to view it.and list the sports you are interested in (NFL, NBA, MLB, NHL) to start receiving ASL's newsletter.