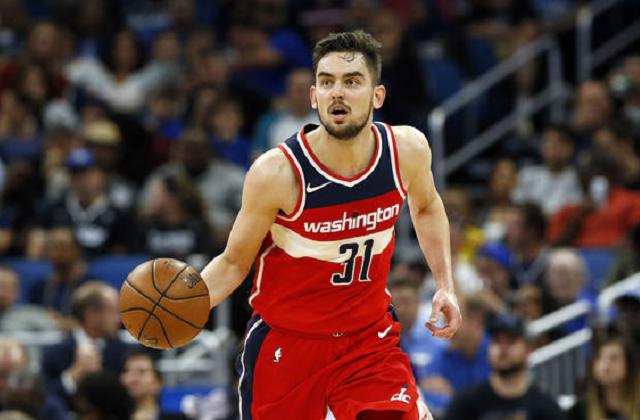 Written by Ernesto Delgado
02 January 2019
Many fantasy owners are combing the wire looking for a replacement for John Wall, but he might be sitting on the waiver wire staring you right in the face. 
Last season, when Wall went down with an injury missing 26 games, Tomas Satoranksky made the most of his opportunity. He turned around a sputtering Washington offense and stuffed the fantasy stat sheet on a nightly basis. Now that Wall is done for the season again, can Satoranksky conjure the same magic he found last year?
Build the best lineups with the power of The Machine for Daily Fantasy Sports
Playing at an elite level during this span last year, Satoransky was the 54thranked player by averaging 1.2 steals per game, 6 assists per game, 10 points per game, and hitting most of his threes along with rebounds. With Wall out and backup guard Austin Rivers being traded away, Satoransky has found another chance to shine, and he isn't the only player with an opportunity to excel. 
Bradley Beal is someone you should try to trade for before he has a chance to really get things going. He's one of the best shooting guards on the east coast. Now that Wall is gone, Beal is obviously the number one option to score, potentially giving him the chance to be a monster for the rest of the season. Although Satoransky isn't quite as talented or quick as Wall, he has the opportunity to fill in that role.
Although Sato struggled against Chicago on Friday, he bounced back against the Hornets by gaining four rebounds, six assists, four-threes, and 20 points. Satoransky is no slouch as he has had 2 steals in the last 3 games and has been averaging 1.4 steals in the last 5 games. He has the potential to average in the ballpark of 13 PPG, 3 boards, and 5 APG, making him a top-75 ranked player for the rest of the season.
Never miss ASL's latest fantasy sports news. Send us an email at This email address is being protected from spambots. You need JavaScript enabled to view it. and list the sports you are interested in (NFL, NBA, MLB, NHL) to start receiving ASL's newsletter.