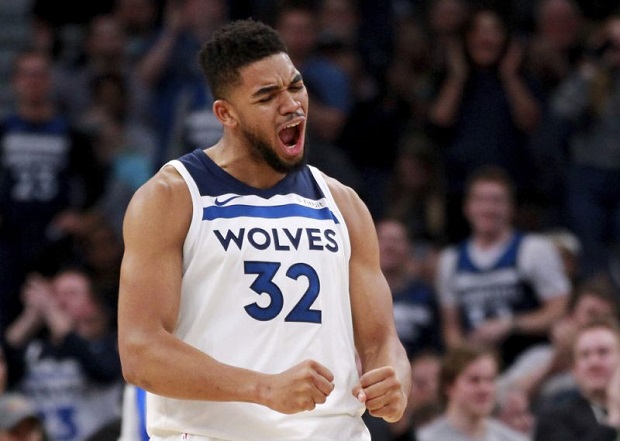 Written by Willard Simms
02 October 2018
C/F Karl-Anthony Towns, Minnesota Timberwolves
Jimmy Butler will be leaving the Timberwolves, and I expect Towns to be a beast after that deal is done! With Butler gone, and Andrew Wiggins never living up to his NBA expectations, Towns is the only one who can carry this team forward. There will be a lot of stats up for grabs following Butler's departure; he averaged 22.2 points and about 5 rebounds, 5 assists and 2 steals last season. Not to mention that Towns began mastering the 3-point shot last year, shooting them at 42 percent. Towns is only a third-year player, so he should be expected to improve anyway, but if this club is to have any chance of making the playoffs, he's going to have to carry them on his back and have the offense run through him.


Build the best lineups with the power of The Machine for Daily Fantasy Sports.


C/F Kevin Love, Cleveland Cavaliers
With LeBron James gone, the Cleveland Cavaliers are now Love's team.  He's signed to a multi-year deal during the offseason and is now in a situation very similar to his last four years in Minnesota, when he led the Wolves with averages of more than 20 points and 10 rebounds a game. He doesn't have Kyrie Irving or LeBron to pass him the ball anymore, but he's always been excellent at establishing position around the basket, is great at put-backs and is a legitimate 3-point shooter. Plus, don't underestimate rookie Collin Sexton's potential to help him. Sexton will be running the show from the point guard position, and I expect him to be looking toward Love as his first option on most of Cleveland's set plays.  
PG Jeremy Lin, Atlanta Hawks
While not a superstar, Lin seems to be slipping under everyone's radar. Atlanta's Dennis Schroder is gone, and while Trae Young may be the team's point guard of their future, he looks nowhere near ready to step in and lead. NBA rookies always struggle with their defense, and Young, a frail-looking point guard, wasn't even a good defensive player in college. I expect Lin to start for Atlanta and approach the numbers he had while with the Knicks, when "Linsanity" was in full bloom. Yes, Atlanta is in rebuild mode and going nowhere this season, but Lin could well step in and provide needed leadership on this young squad.
PG Dejounte Murray, San Antonio Spurs
San Antonio losing Kawhi Leonard, Manu Ginobili and Tony Parker -- three guards who were All-Stars in their prime -- pushes Murray into a very important role. Last year, Murray averaged around 21 minutes a game, and I expect his minutes to nearly double in 2018-19. He will be the one running the Spurs' show, looking to find ways to get the ball to LaMarcus Aldridge and DeMar DeRozan, both excellent shooters. So, Murray's assist numbers should get a huge boost as well. And look for him to be a bigger scoring threat after working on his 3-point shot in the offseason. I don't expect him to be another Steph Curry, but just being a threat from the outside will open up his game and allow him to be a drive-and-kick player with a more well-rounded and efficient game.
SG Jrue Holiday, New Orleans Pelicans
New Orleans lost both DeMarcus Cousins and Rajon Rondo and got nothing back for either player. Those are big voids to fill. While Anthony Davis is a superstar, someone still has to bring the ball up court, distribute it and be a 3-point option. Holiday has always had the talent, but he has also struggled with injuries. If he stays healthy, he will be given a very large role in this offense. His career averages when healthy have been around 15 points, 6 assists, 4 rebounds and 1.5 steals.  I expect all of those numbers to increase, especially scoring, since Davis will constantly be facing double teams. The late addition of Nikola Mirotic, who will probably camp out at the 3-point line, should help Murray's assist total grow.
Once the season begins, I will identify one or two players every week whom I think have excellent fantasy matchups. You may see a lot of players who are facing the Houston Rockets as they are missing their two defensive leaders from last season, Trevor Ariza and Luc Mbah a Moute. I expect Houston's fast-paced, shoot-the-3-whenever-possible approach to lead to a lot of fantasy stats for their opponents.


Never miss ASL's latest fantasy sports news. Send us an email at This email address is being protected from spambots. You need JavaScript enabled to view it. and list the sports you are interested in (NFL, NBA, MLB, NHL, EPL) to start receiving ASL's newsletter.