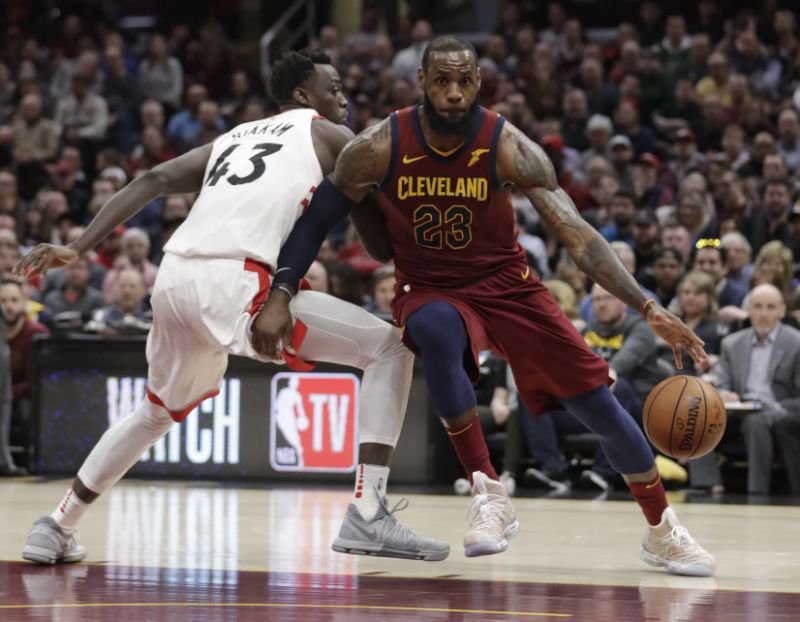 Written by John Adams
22 March 2018
It's no secret that the Toronto Raptors do not play well in Cleveland and that point was driven home once again on Wednesday night at Quicken Loans Arena. The Raptors blew a 15-point, second-half lead as LeBron James put on another show for the ages. When all was said and done, Toronto was left with a harsh reminder that it was James and the Cavaliers who have knocked them out of the playoffs in back-to-back seasons. The Raptors might be the top seed in the East, but the King has no intention of giving up his throne.
At 33 years old, most professional basketball players are retired and starting a second career. Meanwhile, LeBron James is making a hard sell to collect his fifth NBA Most Valuable Player Award. Cleveland took the floor on Wednesday night without head coach Tyronn Lue and missing five rotational players. On paper, the Raptors should have run Cleveland out of their own building and for one half of basketball, that's exactly what they did. Toronto outscored the Cavs 41-22 in the second quarter, and the arena was silent.
But James rose to the challenge and finished the Cavs' improbable comeback win with 35 points and 17 assists. As impressive as those numbers are, LeBron says his most impressive stat of the night was ZERO turnovers. The King became the first player to record 35 points with 15-plus assists who did not record a single turnover.
Kevin Love was playing in just his second game since missing multiple weeks with a broken left hand. He knocked down four 3-pointers to go along with 23 points and 12 boards while George Hill was almost perfect, hitting 10-of-11 shots for 22 points.
Last night's win over the Raptors showed the rest of the league that LeBron and Cleveland are just getting warmed up. If you haven't figured it out by now, you should know that when James is on the floor, his team has a chance to win. During the month of March, James is averaging a triple-double, scoring 31.4 points per game to go along with 10 rebounds and 10 assists. Yet again, he's been a force of nature and seems more than happy to put this team on his back and carry it to the promised land.


Never miss ASL's latest fantasy sports news. Send us an email at This email address is being protected from spambots. You need JavaScript enabled to view it. and list the sports you are interested in (NFL, NBA, MLB, NHL, EPL) to start receiving ASL's newsletter.