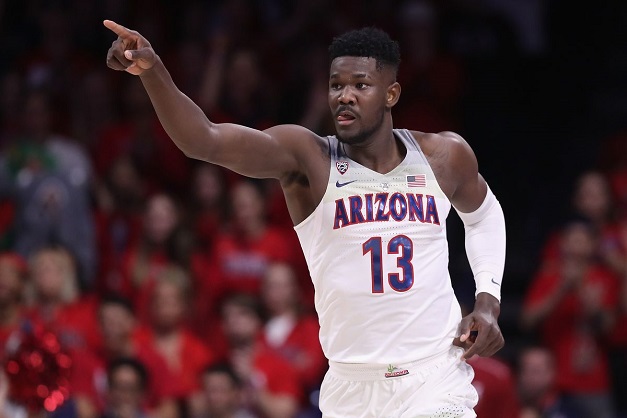 Written by Beau Tazelaar
19 March 2018
The NBA Draft has got to be one of the most exciting events of the year for NBA fans. It is the league's summer jewel and provides an exciting opportunity for people to bet on who will be the No. 1 overall pick at netbet.co.uk.
This year's top drafts picks are very strong. In the following list, you will see who are the top 10 NBA Draft picks. An honorable mention goes to players such as Michigan's Moritz Wagner, who hopes to be picked between 15 and 30.
Pick 10: Lonnie Walker IV, SG, Miami
Judging from his skills and physique alone, Walker has big future ahead of him. He's an all-around talent who also plays strong defense.
Pick 9: Miles Bridges, F/G, Michigan State
Bridges is a very explosive forward and an underrated passer. In transition offense, he is unstoppable. He came back for his sophomore season after being one of the most highly touted freshmen in 2016 and can continue the Spartans' recent line of NBA success, following Gary Harris and Draymond Green.
Pick 8: Robert Williams, PF, Texas A&M
The 6-foot-8 Williams captivates with his athleticism and shot-blocking qualities. He averages 2.6 blocks per game and has increased his passing rate and rebound numbers. If not for his free-throw weakness (46.3 percent), he would rank higher.
Pick 7: Kevin Knox, F, Kentucky
At 6-foot-9, Knox is easily one of the best combo forwards in college basketball. He's an enormous athlete who also shines with speed.
Pick 6: Mohamed Bamba, C, Texas
A center with impressive physical abilities, Bamba's 7-foot-9 wingspan is scary. Offensively, he still has a lot to learn, but defensively, he averages 3.6 blocks per game.
Pick 5: Collin Sexton, PG, Alabama
At 6-foot-3, 190 pounds, Sexton is not the strongest player, but he is incredibly nimble and hard to stop. He learned a lot under the guidance of former NBA playmaker and Alabama head coach Avery Johnson.
Pick 4: Trae Young, PG, Oklahoma
If there is someone to be compared to Steph Curry, it is Young. He scored more than 30 points nine times and topped 40 on four occasions this season. He also recorded 10 or more assists in 11 games. His deadly 3s and somewhat slender frame should actually bring Curry to mind.
Pick 3: Marvin Bagley III, PF, Duke
Bagley is a top talent because of his versatility. With his soft shooting touch plus his passing and ball-handling abilities, Bagley is a truly unique power forward.
Pick 2: Michael Porter Jr., SF, Missouri
Possessing an unbelievable combination of size, length and technique, Porter is a big contender for the first pick. He can hit any shot.
Pick 1: Deandre Ayton, PF/C, Arizona
Ayton has considerably good footwork for a 7-footer. He still needs to develop his offensive game, but his physical tools are spot-on. There is still a need for development on the offensive. He could become a dominant center in the NBA. As a freshman, he averaged 20 points, 11.6 rebounds and just under two blocks per game.


Never miss ASL's latest fantasy sports news. Send us an email at This email address is being protected from spambots. You need JavaScript enabled to view it. and list the sports you are interested in (NFL, NBA, MLB, NHL, EPL) to start receiving ASL's newsletter.