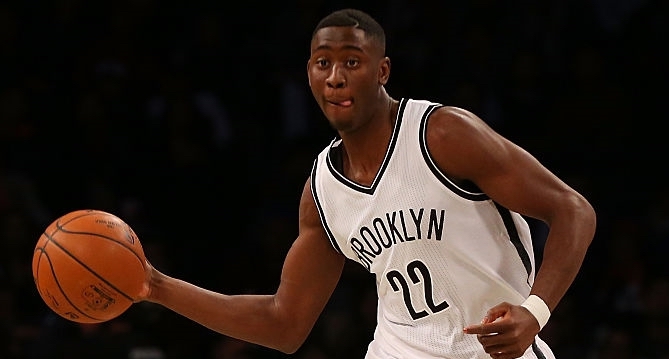 Written by John Adams
10 March 2018
Caris LeVert, Nets, Guard/Forward
DFS is all about plugging in players while they are hot and that's why you should check out Nets guard Caris LeVert before playing DraftKings or FanDuel this week. LeVert is a second year player who has been on fire during his last five games scoring at least 18 points in three of them. His DFS meter is really pointing up now after scoring 22 points against Charlotte and 27 points against the Clippers last week. In his last five games, he's averaging 16.6 points per game on 49.2 percent shooting to along with 3.8 assists, 3.6 boards and 1.8 three pointers. His minutes are on the rise as well; so make sure you give him a close look.
Kyle Anderson, Spurs, Forward
Spurs forward Kyle Anderson is easy to overlook for many fantasy players because he doesn't score a ton of points. However, we all know that in NBA fantasy, points is just one of many categories and that's where a player like Kyle Anderson makes all the difference. To begin with, Anderson is a flat out thief who's racked up a mind boggling 15 steals in just his last five games giving him an average of 3 steals per game. And that's not all, in his last five, Anderson is averaging 9 points, 6.2 rebounds, 3.8 assists and 0.8 blocks. These are numbers that will help any DFS player line his pocket with some green.
Allen Crabbe, Nets, Guard/Forward
Allen Crabbe is another one of those Brooklyn Nets players who can slip through the fantasy cracks if you're not playing close attention. He averages about 30 minutes per night and is averaging 17.6 points per night over his last ten games. His scoring average was dragged down by a mini-slump last week, but he broke out of that in a huge way when he racked up a game-high 29 points against Charlotte. In that game, he nailed six 3-pointers giving him team-high 159 treys this season. It looks like he's getting hot again so go get him.
Never miss ASL's latest fantasy sports news. Send us an email at This email address is being protected from spambots. You need JavaScript enabled to view it. and list the sports you are interested in (NFL, NBA, MLB, NHL, EPL) to start receiving ASL's newsletter.