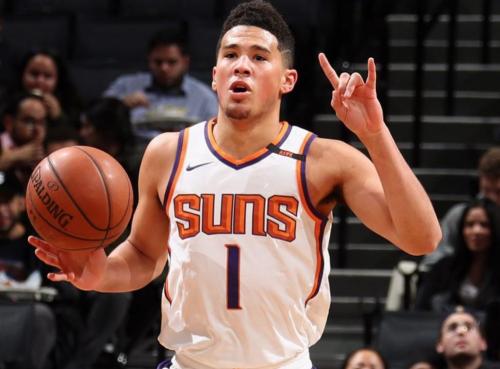 Written by John Adams
01 March 2018
Plan on playing any NBA DraftKings or FanDuel this weekend? We have a pair of sneaky players from Phoenix who could help you line your pockets with a little bit of green. Suns rookie small forward Josh Jackson and third-year shooting guard Devin Booker have been a two-man wrecking crew and could set your daily fantasy roster on fire.
Booker has been a man among boys since winning the 2018 Three-Point Contest two weeks ago. Since that all-star performance, Booker is second in the league in points scored behind only Anthony Davis from the Pelicans. He's averaging 31.8 points per game, which places him of ahead of James Harden and Kemba Walker, to name a few. Booker went 12-of-29 from the field on Wednesday night, scoring 34 points with six boards and three steals to help the Suns to their only victory during the month of February.
Since the Suns are basically done for the season, there is nothing to stop them from letting their younger players eat up all the minutes they can handle, and that leads us to Jackson. He has gone off during his past 10 games, averaging 17.5 points, 6.8 rebounds and 1.2 blocked shots per game during that span. Both he and Booker have sky-high potential and are fantastic bargains for daily fantasy purposes until their prices start to creep up.
This one-two desert punch is enough to complement any DraftKings or FanDuel lineup until one of these players cools down. In the meantime, do your research, construct a strong lineup and plug these two players into your guard and forward positions.


Never miss ASL's latest fantasy sports news. Send us an email at This email address is being protected from spambots. You need JavaScript enabled to view it. and list the sports you are interested in (NFL, NBA, MLB, NHL, EPL) to start receiving ASL's newsletter.