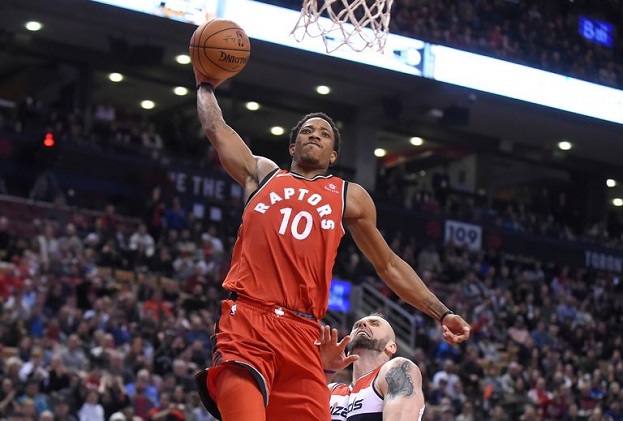 Written by John Adams
12 February 2018
After dropping three of their last four games, the Boston Celtics crashed out of the top spot in the NBA Eastern Conference, and the Toronto Raptors took over first place by winning their fifth straight. And the Raptors are NOT just winning; they are destroying their opponents by an average margin of 21 points per game. And since the Raptors are ripping apart the competition by the third quarter, the starting five are getting plenty of rest and sitting out the fourth quarter.
Toronto blew past the Hornets in Charlotte on Sunday, 123-103. DeMar DeRozan scored 25 points and C.J. Miles put up 24 points in a rout that saw six players score in double figures for Toronto. This win is another example of just how unselfish the Raptors are on the floor. They don't care who's taking the shots as long as the team gets the win.
We've been propping up Toronto and applauding their renewed intensity for a few weeks now. They appeared to be the best team in the East, but the "new-look" Cavaliers may have something to say about that. Cleveland rolled into the TD Garden on Sunday afternoon and beat down Boston so badly that LeBron James barely played at all in the fourth quarter. Cleveland debuted their newly acquired players, and the game was out of hand midway through the third quarter as Boston fell, 121-99.
James actually had to leave the game in the first quarter after he banged his knee colliding with Boston's Aron Baynes. He didn't go back to the locker room and still ended up stuffing the stat sheet with 24 points, 8 rebounds and 10 assists. However, the big news was that new Cavs Jordan Clarkson and Rodney Hood scored 17 points and 15 points, respectively. It's still far too early to tell, but if these young ballers can post numbers like that on a nightly basis, it will be the Raptors and Cavaliers fighting for the top spot in the East at the end of the season.
Never miss ASL's latest fantasy sports news. Send us an email at newsletter@advancedsportslogic.com and list the sports you are interested in (NFL, NBA, MLB, NHL, EPL) to start receiving ASL's newsletter.