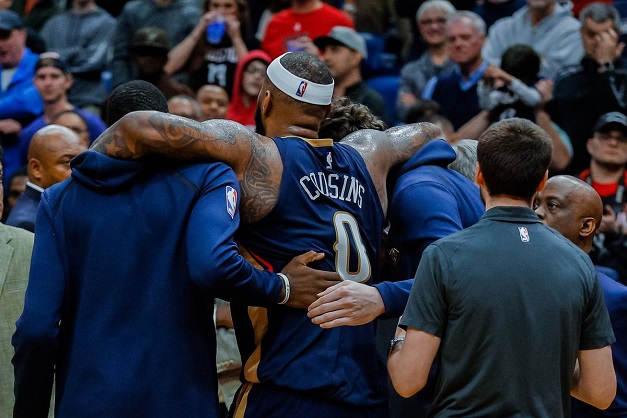 Written by John Adams
27 January 2018
DeMarcus Cousins is done for the season, and heartbreak is crashing down on Pelicans fans all over the Big Easy this weekend. An MRI confirmed that Cousins suffered a devastating full rupture of his left Achilles tendon on Friday night, ending his season and possibly impacting the rest of his career. An Achilles injury is one of the worst injuries a big man can suffer, and Cousins is listed at 6-foot-11 and 270 pounds.
At this point, there is no specific timetable for Cousins to return. He will undergo surgery in the next couple of days and then begin a long, arduous rehab that could take anywhere from six to nine months. There is no guarantee that he will be ready for the start of the 2018-19 season.
Looking for some additional game-time action? Make your own NBA prop bets here.
Anthony Davis and Cousins were a two-man wrecking crew for a team that took down the Houston Rockets last night, 115-113, recording one the team's best wins in years. Cousins was averaging better than 25 points, 12.7 rebounds and more than five dimes per game.
The Pelicans were playing untraditional basketball in this day and age but making it work in the West. New Orleans had a great shot at doing some real damage in the playoffs, but without Boogie Cousins, the season is lost.
Never miss ASL's latest fantasy sports news. Send us an email at newsletter@advancedsportslogic.com and list the sports you are interested in (NFL, NBA, MLB, NHL, EPL) to start receiving ASL's newsletter.