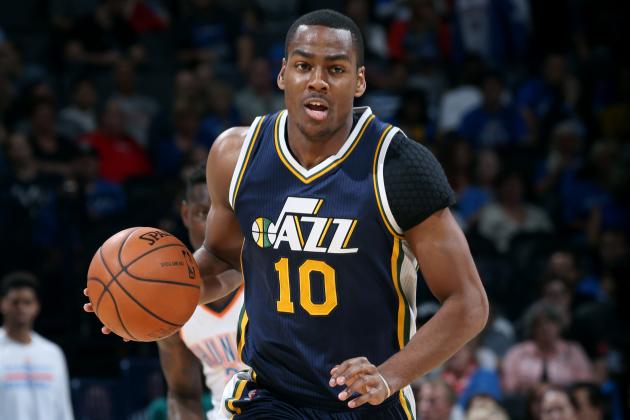 Written by John Adams
28 December 2017
Alec Burks, Guard, Utah Jazz
Jazz guard Alec Burks was a viable fantasy option as long as Rodney Hood was out of action with an ankle injury or any other issue. But with Hood back on the floor, Burks is spending most of his time on the bench, which means he is of no use to your fantasy team. He has averaged just 7.5 points per game over his last seven contests and is getting a meager amount of playing time. Fantasy owners had a very nice run with him during the first half of December, but the salad days are gone. It is time to cut bait on Burks.
Jae Crowder, Forward, Cleveland Cavaliers
Midway through Week 11, Cavs forward Jae Crowder is still owned in more than 50 percent of NBA fantasy leagues. Let me state this for the record: That ownership rate is far too high. If you are still holding out hope that Crowder will start producing for your fantasy team, it's time to let it go. He's averaging 8.7 points per game this month to go along with 2.8 rebounds and 1 assist per game. There is nothing to like here. No points coupled with basically no boards, assists or steals equals "No thank you!" Please move on to a fantasy player who does NOT rank outside of the top 200.
Jeff Teague, Guard, Minnesota Timberwolves
Averaging just 12.6 points per game, Minnesota guard Jeff Teague wasn't exactly having a December to remember and things just got much worse for his fantasy owners. Teague left Wednesday night's game against the Nuggets with a knee injury and people close to the situation believe it could be serious. Fantasy owners might be wise to grab Tyus Jones now as an insurance policy. Although the sample size is small, Jones has played well when filling in for Teague in the past. In the meantime, all fantasy owners can do is hope and wait for the results of Teague's MRI.
Never miss ASL's latest fantasy sports news. Send us an email at newsletter@advancedsportslogic.com and list the sports you are interested in (NFL, NBA, MLB, NHL, EPL) to start receiving ASL's newsletter