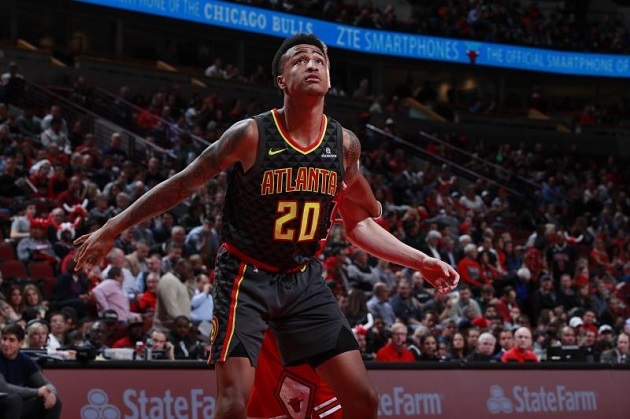 Written by John Adams
26 December 2017
John Collins, Forward, Atlanta Hawks
If you don't like what you're seeing from Atlanta's rookie forward John Collins, then you are really not paying attention. Collins is starting to find his footing in the NBA, and fantasy owners should be taking notice. He's posted double-digit points in three games straight and is averaging seven boards a night over his last six games. Collins is not getting a ton of minutes just yet, but that's because the Hawks are letting him take it slow and find his rhythm. He's 20 years-old and is improving every time he steps on the court. Collins could be one of the top adds heading into 2018. Do yourself a favor and get ahead of the pack on this one.
Jordan Bell, Forward, Golden State Warriors
Zaza Pachulia was healthy again for a Christmas clash against the Cavs, but the Warriors stuck with forward Jordan Bell for one more night. Bell has been filling in for the injured Pachulia and filling up the stat sheet in every fantasy category except points scored. In just his last two games prior to Christmas, Bell had 20 boards, three steals and three blocks. If Golden State continues to roll with Bell, he can be a bountiful source of rebounds, steals and blocks. He also won't hurt your shooting categories because he seems to shoot only when he has a can't miss shot. Golden State head coach Steve Kerr is ready to put Pachulia back in the starting lineup, but Bell will still hold plenty of value coming off of the bench. 
Isaiah Canaan, Guard, Phoenix Suns
The sample size is very small (just five games), but Suns guard Isaiah Canaan is already making a case for a starting position in Phoenix and fantasy lineups. The Suns released Mike James on Saturday, clearing the way for Canaan to secure a roster spot. Canaan is a decent 3-point shooter who has managed double-digits point totals in each of his last five games to go along with a decent amount of assists and steals. Canaan has the veteran experience that will lead to more time on the floor, which means more chances for 3-pointers and steals. Canaan is not a must-add, but he could provide a valuable upgrade if you need help at the guard position.


Never miss ASL's latest fantasy sports news. Send us an email at newsletter@advancedsportslogic.com and list the sports you are interested in (NFL, NBA, MLB, NHL, EPL) to start receiving ASL's newsletter.