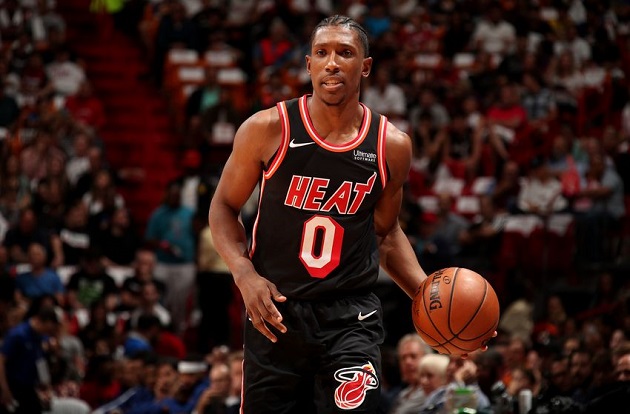 Written by John Adams
19 December 2017
 Josh Richardson, Guard/Forward, Miami Heat
The Miami Heat's Josh Richardson is hands down the biggest waiver wire pickup of the month. RUN, don't walk, to your league's market and put this guy on your roster. After a dismal start to the season for Richardson, it was not hard to see why many fantasy owners simply lost their patience and cast him off. But Richardson has turned things around in a big way, and it's time to make sure he is NOT floating around on your wire. Richardson went off again Monday night, scoring 26 points to go along with four boards, three dimes, three steals and two blocks. Richardson has been on fire over his past 11 games, averaging 15.8 points, 2.6 threes, 3.2 rebounds, 1.6 dimes and 1.1 steals. Head coach Erik Spoelstra never lost faith in the 24-year-old second-round draft pick, and Richardson is the last-minute holiday gift that will keep giving and giving through the holiday season and beyond.
Caris LeVert, Guard, Brooklyn Nets
Nets guard Caris LeVert is not in the same class as Richardson, but he is another player who knows how to fill up the stat sheet. He has scored in double digits in eight of his last 10 games and has multiple steals in six of his last 10. During his last five games, he is averaging more than six assists per contest, but his 3-point shooting runs hot and cold. He's been a top 100-player over the last 30 days and a top-50 player over the last two weeks. LeVert plays on a Nets team that is short on talent, so he should have plenty of playing time over the course of the season.
Mike Scott, Forward, Washington Wizards
I don't know what's gotten into Wizards forward Mike Scott, but the dude has been ballin' during his last five games. He's draining 3s at will and is averaging more than 16 points-per game. Scott is shooting an awe-inspiring 69.4 percent during his hot streak. He will eventually cool off, but fantasy managers needing short-term help should take a flier on Scott and see where they end up.


Never miss ASL's latest fantasy sports news. Send us an email at newsletter@advancedsportslogic.com and list the sports you are interested in (NFL, NBA, MLB, NHL, EPL) to start receiving ASL's newsletter.