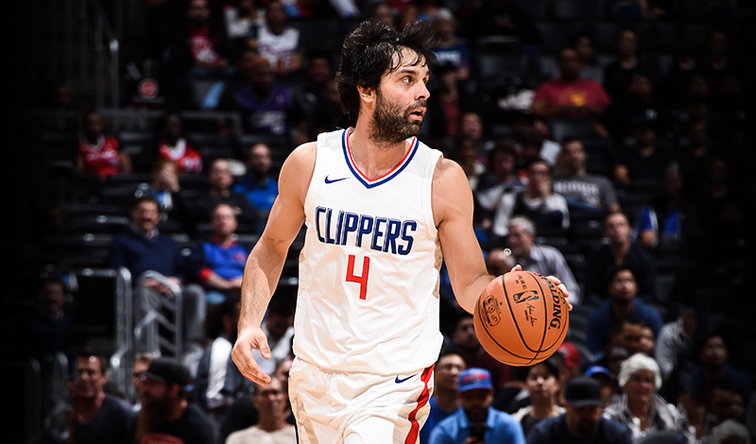 Written by John Adams
11 December 2017
Milos Teodosic, PG, SG, Los Angeles Clippers
Believe it or not, 30-year-old rookie Clippers guard Milos Teodosic is a basketball legend. It's also equally possible that you have never even heard his name before. That's because Teodosic's basketball prowess is legendary in Europe, not the United States. The problem here is that he played in exactly 1.5 NBA games before suffering a very painful foot injury at the start of the season. His ownership in fantasy basketball circles is right around 10 percent, but that should change quickly. The Serbian has MAD ball-handling skills to go along with a great long-range shot. He's questionable for Monday's home matchup against the visiting Raptors. The bottom line here is that Clippers guard Patrick Beverley is out for the year and the only player who can fill that void is Teodosic. He may not have an immediate impact, but once he gets used to the speed of the game, he could easily become a top-40 player. If you can show a little bit of patience, Teodosic could become a true difference maker for your fantasy team.
Jahlil Okafor, C, Brooklyn Nets
Here's another player who has played in just two NBA games this season. Jahlil Okafor was the third overall pick from the 2015 NBA Draft and had a great rookie season for the Philadelphia 76ers. But Okafor sputtered and had injury issues during the 2016 season. Then 76ers exiled the Duke alum to the bench and decided to leave him there until they could trade him. During his rookie season, Okafor averaged 17.5 points, 7 rebounds and 1.2 blocks per game. Those numbers far surpass what any Nets center has put on the floor this season, including Timofey Mozgov, Tyler Zeller and Jarrett Allen. That's why the Nets traded for Okafor last Thursday. If he can come close to replicating his rookie numbers for Brooklyn, he will definitely be a player you want on your fantasy roster.
Caris LeVert, SG, SF, Brooklyn Nets
Nets guard Caris LeVert is starting to show Brooklyn and fantasy owners what he's capable of when he's on the floor for a full 30 minutes. The 2016 first-rounder is filling the up the stat sheet with a flurry of steals, assists and double-digit point outputs. He has yet to crack the starting lineup, but Brooklyn has him playing starting minutes. LeVert's ownership is on the rise and if he keeps improving at this rate, he has a shot to start for the rest of the year. He is not a must-own player YET, but he's getting closer with each passing week.

Never miss ASL's latest fantasy sports news. Send us an email at newsletter@advancedsportslogic.com and list the sports you are interested in (NFL, NBA, MLB, NHL, EPL) to start receiving ASL's newsletter.