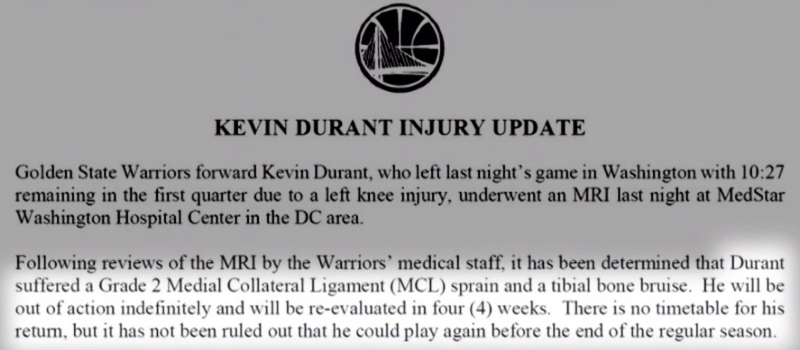 Written by John Adams
01 March 2017
At this point, it's fair to call NBA Superstar Kevin Durant's bone bruise, the injury heard around America. The news isn't all bad for Golden State, but there are few positives for the Dubs right now.
What was thought to be a season ending injury for Durant, turned out to be a Grade 2 MCL Sprain and a Tibial Bone Bruise. In English, this means he's done for at least four weeks and perhaps the remainder of the regular season.
The shock waves are rippling through the Bay Area while many teams in the West have a renewed sense of hope. After Golden State, the San Antonio Spurs and Houston Rockets have the second and third best records in the league.
The Spurs actually have a realistic shot of taking the top seed away from the Warriors as they are only 4 games back. Not only that, they play Golden State twice in the next four weeks and Durant will be nothing more than a spectator.
The Rockets might be too far back to catch the Dubs, but could pose a serious challenge to them in the playoffs. Durant could be back on the court, but there is no way to know how effective he'll be while he trying to come back from a serious knee injury.
The biggest winners of all might very well be the LeBron James and the Cavaliers. Cleveland has NOT been the dominant team they were last season and the possibility of playing a depleted Golden State squad might really lift their level of play.
Of course this all conjecture - Durant could come back on fire and lead the Warriors to the Promised Land, but there's no question that Golden State's quest will be a long and difficult uphill battle.