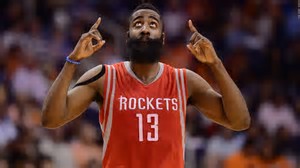 Written by Daniel Brown
24 February 2017
In this column we look at players that are putting up great fantasy points (Slam Dunk) in their recent matches and have solid matchups this weekend, as well as players that have been ice cold (Air Balls). In addition we consider players who have been performing well but we expect them to struggle in the upcoming matchups (Air Balls) or those that might exceed recent expectations (Slam Dunk).
We break down several players that fall into either category, some are more obvious players that you should be including in your lineups most times (James Harden; Russell Westbrook and those elite scoring players), however mostly we will try and analyze those supporting players that you can use to fill out your roster with available funds.
The NBA trade deadline came and went with relatively little action. The obvious exception as far as fantasy goes was the trade to move DeMarcus Cousins from Sacramento to New Orleans. In Sacramento we really liked Boogie every match up because everything ran through him and he was able to rack up solid statistics in all major categories, his move to New Orleans will likely change this although we still think there is value in him due to his ability to score points and rebound the basketball but we expect his assist numbers to drop off in New Orleans. On the other side of the trade Sacramento picked up Buddy Hield but if the first game post-Cousins is any indication of things to come in Sacramento it will be Willie Cauley-Stein that could benefit the most from the trade and establish himself as a fantasy go-to on a pretty average Sacramento team.
Saturday gives us the Cavaliers against the Bulls as well as the 76ers travelling to New York to take on the Knicks which should both provide fantasy scoring options, as well as some other intriguing matchups with the Warriors hosting the Nets and the Timberwolves at the Rockets.
Sunday has some potentially high scoring encounters including the Spurs at the Lakers, the Trail Blazers on the road in Toronto and the Pelicans at the Thunder. All of these matchups look like possible big point producing encounters for fantasy purposes.
Slam Dunks:
Kawhi Leonard (SF – SAS) – Leonard has emerged as the next Superstar on the Spurs roster and many people have discussed him in the MVP race as a legitimate candidate with good reason. He has everaged 25.9 points, 6 rebounds and 3 assists per game. It is his ability to take over a game and score a lot of points that from a fantasy perspective we like this weekend. Against a very average Lakers team the potential for a high scoring output is there for all the Spurs but we expect Leonard to do the bulk of the scoring and put up a solid fantasy night.
Carmelo Anthony (SF – NYK) – Carmelo appears to be disillusioned with the Knicks direction and many thought he would be traded at the deadline. That didn't happen and he remains with the Knicks (for now). His basketball productivity has remained solid despite the off-court discussions putting up 20+ points in all 6 recent matches. He continues to put a lot of minutes together with gives him scoring options and he has also contributed rebounds and assists. We think Anthony will continue to score with ease against the 76ers and should reward fantasy owners willing to spend up on him against the 76ers.
Karl-Anthony Towns (C – MIN) – This guy continues to perform night in and night out. Over the last 5 games he has averaged 27 points per game, 11 rebounds and 2 assists and against the Rockets there wil be plenty of chances to score at least a double-double and we expect him to lead the scoring for the Timberwolves. The Rockets like to play a fast style of basketball which leads to many early shot clock attempts, this enables both teams to increase scoring opportunities, as well as rebounding and because of this we really like Towns this weekend.
James Harden (SG – HOU) – What a season he is having! Over the past 6 games he is second in fantasy points per game amongst guards to Russell Westbrook by a very small margin. We all are aware of how crazy Westbrook has been this year following the departure of Durant in the offseason and now everything goes through Westbrook, which goes to show how impressive Harden has been recently. There is no reason to think he won't be one of the leading fantasy scorers this weekend against the Timberwolves because of the pace of play we expect, the fact that everything runs through Harden, and that the Timberwolves defense has struggled recently against scoring teams (which the Rockets most certainly are). Harden won't be cheap but he is a slam dunk if you want to build around him this weekend.
Kevin Durant (SF – GSW) – Durant has been amazing the past 6 matches scoring an average of 25 points, 6.5 rebounds and 5 assists. Add to that he has 9 blocked shots over that same period including a ridiculous 4 against the Kings on 2/15 and there is even more upside with him in terms of fantasy scoring. This weekend the Warriors play one of the worst teams in basketball in the Nets who have averaged a staggering 114.2 points allowed per contest. That might be considerably lower than what they could allow the Warriors in this matchup! The only real risk to a huge fantasy night for Durant is the potential for a blow out victory that could result in the starters getting some rest in the second half. Taking that risk into consideration we still think Durant is a slam dunk against a very poor Brooklyn Nets team.
Air Balls:
Brook Lopez (C – BKN) – Lopez has been outstanding this year and over the past 5 games he has averaged 35 fantasy points including 51 on 2/15. Against the Warriors though we are fading Lopez mainly because we expect the Warriors defense to limit the easy baskets with tough interior defense and by reducing the number of points Lopez scores, as well as the fact Golden State is a very good rebounding team which will challenge Lopez we are expecting a relatively poor fantasy night for Lopez. This doesn't mean he will score single digits, but we expect him to be significantly below his recent average of 35.
John Wall (PG – WSH) – Wall has been great for Washington this season averaging 22.8 points per game and just under 11 assists. Over the past 7 games Wall has averaged a staggering 50.5 fantasy points per contest! Against the Nuggets this weekend we expect he will still score a solid number, however because of the improved Nuggets defense we believe Wall will put up considerably less than this recent average would suggest, possibly as low as 30 fantasy points which means that rather than spending up big here we look to spend that money on our Slam Dunk selections.