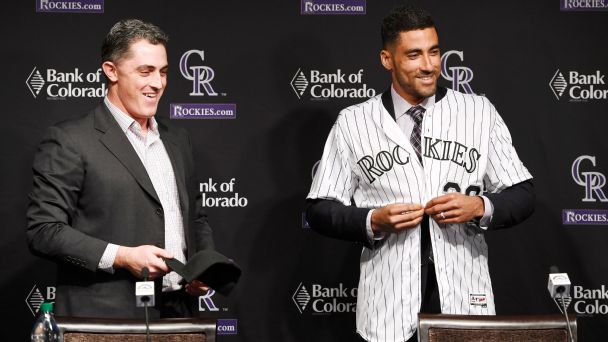 Written by Brian Murphy
30 January 2017
STOCK UP
Ian Desmond, OF, Colorado Rockies
Desmond won't come cheap following his 20-20 season with 107 runs and a .285 average. Now that he'll get to play half of his games at elevation, however, those counting stats could very well improve.
Wade Davis, RP, Chicago Cubs
A forearm injury washed out a large chunk of Davis' 2016 season, but if he's healthy, he is slated to be the ninth-inning man for the reigning World Series champs. He might be a value pick in drafts and pay off handsomely. Don't forget how dominant he was when shortening or shutting down games for the Royals from 2014-16.
Kendrys Morales, 1B, Toronto Blue Jays
Although the Blue Jays' offense won't be as potent this season, moving from Kansas City to Toronto's hitter-friendly ballpark might lead to Morales hitting 35 homers in 2017. He hit 30 last year.
Yoan Moncada, 2B, Chicago White Sox
Moncada was probably going to see time in the majors this season anyway, but his road to the show is clearer on the South Side of Chicago than it was in Boston. He's a draft-and-stash commodity who could arrive by early summer and get an extended look -- as long as he makes more contact than he did during his cup of coffee stint last year.
The top of the Cleveland Indians' lineup
I know Mike Napoli put up big numbers in 2016. But Edwin Encarnacion should still be more productive than him. At the very least, he'll make more contact, which will mean more runs (and perhaps a larger quantity of hittable pitches) for Carlos Santana, Francisco Lindor, Jason Kipnis and/or a hopefully healthy Michael Brantley.
Drew Smyly, SP, Seattle Mariners
Smyly, who is only 27, is much better than the 4.88 ERA he put up last year. In spacious Safeco Field and on a team that should score plenty more runs than the Tampa Bay Rays, he is set for a rise in wins at minimum. 
All Houston Astros hitters
Adding Carlos Beltran, Brian McCann and Josh Reddick to the young stars already in place gives this lineup a well-rounded feel without a single easy out. All involved should benefit.
David Price, SP, Boston Red Sox
This has nothing to do with stats or facts -- just a gut feel. Those are dangerous and shouldn't be taken as gospel, but I think operating as the No. 2 starter in the Red Sox's rotation will reduce some of the pressure Price had riding on him last season. He'll be better.
VALUE DOWN
Aroldis Chapman, RP, New York Yankees
Chapman is obviously overpowering, but I'm always against paying for saves, and Chapman's new fat contract shouldn't give you the impression that he's any more special than he already was. I'm not saying he's bad or overrated; I'm just saying that you shouldn't get caught up in the hype provided by his financial numbers. He's been successful on bad teams before, but keep in mind that he may not get an overwhelming number of save chances with the also-ran Yankees this season.
Jean Segura, SS, Seattle Mariners
Don't pay for 2016 numbers when it comes to Segura because there is no way he hits 20 home runs again, especially after his move to Seattle. His .319 batting average is also due to come down given his .353 BABIP last year.
Dexter Fowler, OF, St. Louis Cardinals
Fowler fills a major void for the Cards, but leaving the friendly confines of Wrigley Field along with the Cubs' stronger lineup will likely lead to reductions in his run production and scoring.