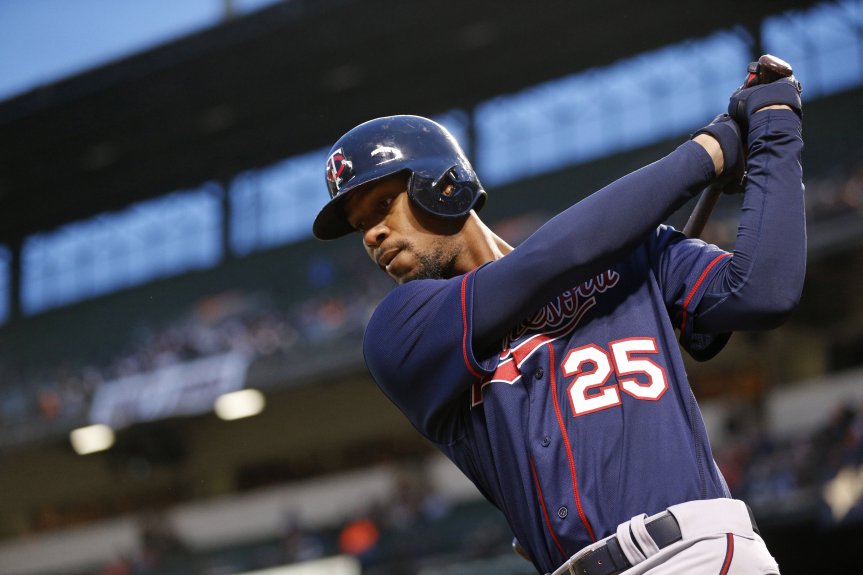 Written by Brian Murphy
08 September 2016
The start of the fantasy football season can be distracting, but remember to keep your eye on the prize as you enter your fantasy baseball playoffs. These players can help you attain that glory. 
Kendrys Morales, 1B, Kansas City Royals
Morales experienced a two-week run from mid-June through early July where he made hitting a baseball long distances look absurdly easy. For a few consecutive days during that streak, he honestly appeared to be the best player in baseball. Of course, that was more than two months ago. He has inevitably slumped since then and people have forgotten about his summer exploits and ... uh oh. He's doing it again! Since Aug. 28 and through Tuesday, Morales has smacked five home runs, racked up 14 RBIs and is hitting .368. With matchups against the White Sox and Athletics littering his schedule for the next 10 days, the 33-year-old is likely to remain red not. 
Byron Buxton, OF, Minnesota Twins
Buxton deserves your attention every time he is called up to the majors based solely on his potential. He is projected to be a future five-tool superstar and has been seen as one of the best prospects in the game -- if not the best -- since 2014. He has been compared to Mike Trout and MVP-level Matt Kemp. Is he that player right now? Far from it. Buxton has seen plenty of struggles since debuting last June. He has a career OPS through 348 career at-bats of just .624. He's striking out at higher rate this season than Chris Davis and Khris Davis. However, this volcano is beginning to rumble ever so slightly. Buxton had the best five-game segment of his young career at the start of this month, going 10-for-19 with three homers. He's going to play every day, and you will want to be on board when it all starts to click for Buxton. When it does, he could carry your fantasy team. 
Ivan Nova, SP, Pittsburgh Pirates
Be it the friendlier confines of the National League, the magic that Pirates pitching coach Ray Searage uses on his starters or some other force, Nova has become a stud with the Pirates. He has posted a 4-0 record, a complete game shutout, a 28:2 strikeout-to-walk ratio and a 2.89 ERA in six starts since the last-minute trade deadline deal that brought him to Pittsburgh from the New York Yankees. You have every reason to believe he can keep this up for a while as Nova's next three outings are scheduled to come against the Reds, Phillies and Brewers.   
Giancarlo Stanton, OF, Miami Marlins
I know that Stanton is probably owned already in your league. But coming off of an injury that was initially reported to be season-ending, he was understandably dropped, and it doesn't hurt to check his availability. The big bopper was surprisingly activated off the disabled list Tuesday after missing more than three weeks due to a severe groin strain. For now, he will be used only as a pinch-hitter and there's no telling if or when he will return to regular duty. Yet if you have a bench spot to spare on your squad, especially if you are locked into a playoff bye and can afford to wait on him, you don't need me to say how much of a late-season boost Stanton could provide to your offense.