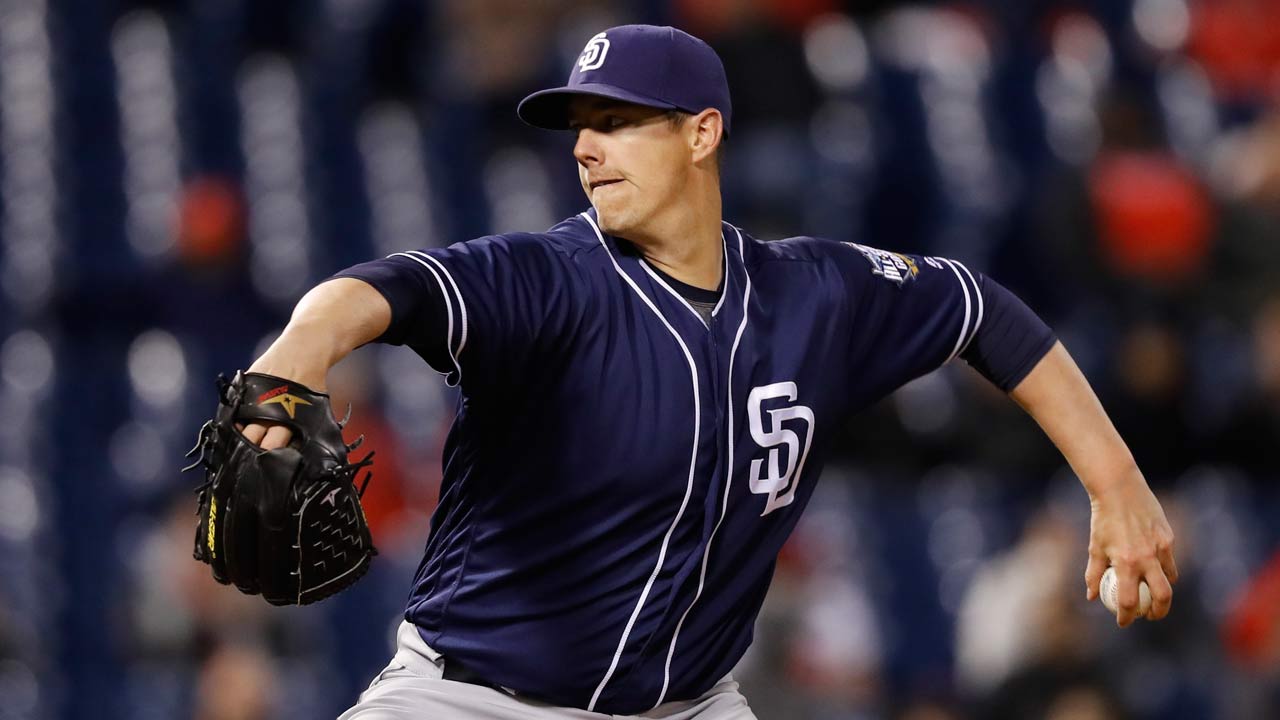 Written by Brian Murphy
05 July 2016
San Diego Padres
The Marlins bolstered their bullpen on June 30 by acquiring Fernando Rodney from the Padres. After a very rocky 2015, he had allowed just a single run through 28.2 innings as San Diego's closer. Rodney is now setting up A.J. Ramos in Miami, but who takes over in his stead? Ryan Buchter seemed like the opening favorite, but he pitched the eighth inning Friday versus the Yankees while Brandon Maurer held on in the ninth to get the all-important save (although Maurer did allow a run on two hits in that frame and holds a 5.67 ERA this year). Still, the lefty Buchter appears to be the most deserving choice for the role. Through Monday, he had a 2.75 ERA, a 1.17 WHIP and 52 strikeouts in 36 frames. The Padres haven't had a save opportunity since Friday, and the picture here remains rather opaque. If you're desperate, my money would be on Buchter.
Colorado Rockies
So much for Jake McGee regaining his ninth-inning spot. That's what I thought would happen, but Rockies manager Walt Weiss said after McGee was activated from the disabled list Saturday that Carlos Estevez would stay on as the closer for now. However, that's not the end of this story. Estevez has allowed runs in three of his past four appearances, blew a save on June 24 and has seen his ERA rise to 4.45. You would think that might open the door for McGee, but he was scored upon immediately in his return from the DL. His ERA is now 5.09. The sleeper here is Adam Ottavino, who is making his way back from Tommy John surgery. He allowed just six baserunners and no runs in 10.1 innings last season and was a perfect 3-for-3 in saves before going under the knife in May. Fourteen months later, he is very close to being MLB-ready once again and might be thrown back into the ninth inning right away. Estevez and McGee certainly haven't done much lately to make this a tough decision for Weiss. Be on your toes and ready to snap up Ottavino on your fantasy baseball roster. 
Tampa Bay Rays
Alex Colome, who has been one of the American League's best relievers this year, landed on the disabled list June 28 due to right biceps tendinitis. However, because he hadn't pitched since June 18, he is already eligible to be activated and may get that call by Tuesday. Ryan Garton earned the save Monday versus the Angels, but thanks to the team's recent slide, that was Tampa Bay's first save opportunity since Colome last pitched. Colome has done nothing to lose his job, and it looks like he and his 1.76 ERA will be back in action this week and could be an exciting MLB player to watch.