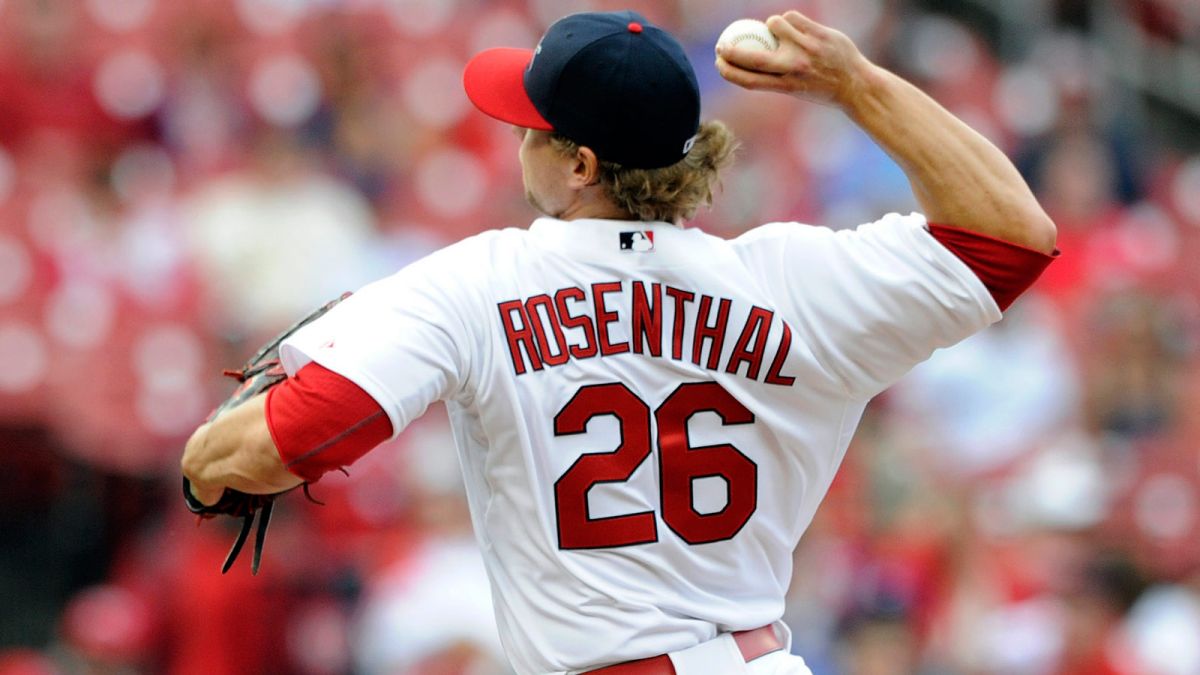 Written by Brian Murphy
27 June 2016
 St. Louis Cardinals
There isn't a large quantity of fantasy mlb closer news this week, but there is one story that will have a huge impact on the fantasy community: Trevor Rosenthal is no longer the Cardinals' closer. Manager Mike Matheny made the call Saturday. At the moment, Rosenthal, for the lack of a more civilized term, stinks. He entered Friday's game versus the Mariners with a two-run lead and faced three batters. Double, walk, home run, game over, thanks for playing. Entering Sunday, Rosenthal had allowed eight runs and 17 baserunners in his last seven appearances (four innings pitched). Although he is still striking out batters at a very impressive clip and there is nothing wrong with his velocity, Rosenthal has displayed awful control. His worst single-season walk rate was set in 2014 at an unsightly 5.37. This year, it's a completely grotesque 7.88. His current ERA is 5.63. His WHIP is 2.04.  
Matheny said he will go with a closer-by-committee strategy and named three pitchers who will get their chances in the ninth: Kevin Siegrist, Jonathan Broxton and Seung-Hwan Oh. Siegrist has been a dependable setup man for St. Louis two years running. He has been more mortal this year than in 2015, but a 2.79 ERA with a strikeout rate a sliver below 10 and an improving walk rate will get it done. Broxton has plenty of closing experience -- he saved 92 games from 2009-12. However, his numbers haven't been as strong as Siegrist's, and both men can't compare to Oh. A 33-year-old MLB rookie from Korea, Oh owns a 1.66 ERA and a 1.42 FIP. He has walked two batters since the start of May and has compiled 51 Ks through 38 innings. Plus, he was so successful as a closer in Asia that he earned the legendary nickname of "Final Boss." Matheny's decision makes this a guessing game, but I would spend my money. If we're judging solely on performance, he deserves the first shot.
Colorado Rockies
In other baseball news, Carlos Estevez was nearly flawless in his first four save opportunities this month. But he allowed at least one run on Thursday and Friday, getting tagged with a loss and a blown save, respectively. It looks like Jake McGee's return is coming at the right time. McGee has been on the disabled list since June 11 with left knee inflammation, but barring any setbacks, he appears on track to return by the end of the July 4 weekend. His 4.98 ERA doesn't provide for a ton of job security, but be aware that 9 of the 12 earned runs he has given up came in two appearances -- one in April and one right before his DL stint. Thus, McGee will reclaim his gig once he's ready and push Estevez back into setup duty. 
Washington Nationals
Speaking of job security, Jonathan Papelbon has lots of it. He's been on the mend for the past couple of weeks due to a strained rib muscle. But he reported no problems during a bullpen session Saturday and, like McGee, should be back in the Nats' pen before the end of the week. Shawn Kelley hasn't allowed an earned run and has picked up two saves since June 13. Really, he has been better than Papelbon this season. But his time in the ninth is coming to a close.