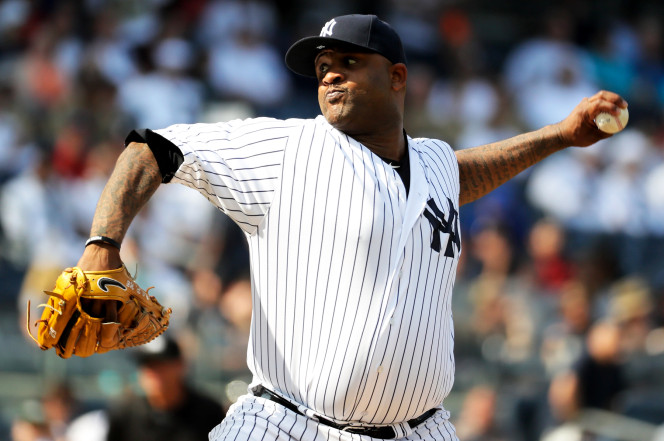 Written by Brian Murphy
21 June 2016
The NBA season came to a thrilling conclusion Sunday night. The NHL wrapped up more than a week ago, and the NFL is currently enjoy its summer break. Baseball owns the team sports calendar until late July, so you have no excuses to not spend every waking moment improving your fantasy team. Maybe you can squeeze in an hour for sleep, but that's it, bub! Capiche? Let's run through some waiver wire gems.
CC Sabathia, SP, NYY
If you haven't moved on Sabathia yet, you have already waited too long and missed out on some fantastic starts. However, you also aren't alone because Sabathia is still available in 30-45 percent of fantasy leagues, depending on your platform. He has allowed just four earned runs in his past 44 innings (0.82 ERA). That's seven starts of sustained excellence. Four earned runs! That's like half an inning for James Shields. What else does Carsten Charles need to do to get everyone to buy in? I know Sabathia was pretty wretched from 2013-15, but in fantasy, we care about the numbers more than the name. And Sabathia's numbers from the start of May are among the best in baseball. Pick him up already.
Jonathan Schoop, 2B, BAL
Schoop fits in perfectly with the Orioles. He strikes out quite a bit (although he's been better in that area this season) and he doesn't hit for a very high average (his current 15-for-39 hot streak has lifted him all the way up to .278), but he does have significant power, and that's very valuable at a power-scarce position like second base. Schoop hit at least 15 homers in each of the past two years and he's well on his way to blowing past that number this season; he went yard for a 12th time Sunday. He ranks sixth among all second basemen in home runs and fifth in RBIs. He is bound to cool off soon, but the power will always be a part of Schoop's game.
Rajai Davis, OF, CLE
Admittedly, I've been slow to come around on this one. Davis is working on his sixth team in 11 MLB seasons. To this point, he's been known as a good outfielder with speed. That speed hasn't gone anywhere even though Davis is now 35 years old; he stole two more bags on Sunday, moving his season total to 20, tied for second-most in the majors. If you need some steals, he's your man. But Davis also has seven homers, one shy of his career best. He notched four hits Sunday and is batting leadoff for the Indians. Like with Sabathia, don't let name and history blind you from what Davis is accomplishing right now.