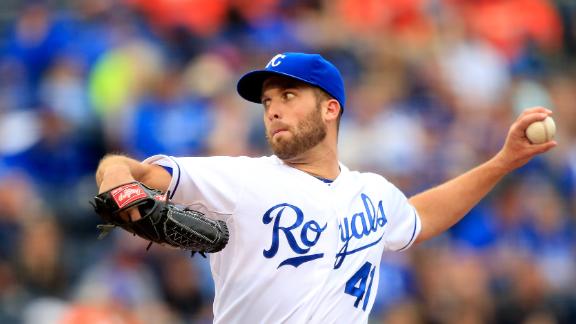 Written by Brian Murphy
13 June 2016
This week's package of prospective pickups include a reliever-turned-starter who is piling up the strikeouts and a couple of dual-threat outfielders who are still available in more than 50 percent of leagues.
Danny Duffy, SP, KC
Duffy's ownership percentages are rising precipitously following a dominant start Saturday. He struck out 10 White Sox hitters over six scoreless innings in Chicago. It looks like the fantasy community is ready to trust Duffy after his latest triumph, but he has been on a roll since the start of June. Through three starts this month, Duffy is 2-1 with a 2.45 ERA, a 0.98 WHIP and 25 strikeouts in 18.1 innings. As long as he can keep the ball in the park – he has given up six homers in his past four starts – Duffy is going to be a good source of strikeouts. Even better, he has shown vastly improved control this season. His career WHIP entering 2016 was 1.36. Right now, it's just 1.06, and that can be attributed to Duffy handing out just 10 walks in 49 innings.
Leonys Martin, OF, SEA
Martin fell out of sight, out of mind thanks to a DL stint which ended on Friday. Prior to sustaining his hamstring injury in late May, Martin had nine home runs and eight stolen bases on the season. He batted .350 with five homers and six steals in his 20 games just before the injury bug bit. And sure enough, he went deep at Safeco Field on Sunday. Martin isn't going do much for your team average – even after his hot streak, he was batting just .262 – but his multi-category appeal shouldn't be ignored any longer.
Trayce Thompson, OF, LAD
This Thompson isn't as famous as his big brother, Klay, but he has produced some splashy numbers for the Dodgers. The only problem was, until mid-May, he just wasn't presented with many extended opportunities due to Los Angeles' crowded outfield. But with Carl Crawford cast away and Yasiel Puig on the mend, Thompson has seen his name on the lineup card regularly. And he has responded by not missing a beat. Since May 16, Thompson has hammered six home runs and has recorded a .965 OPS. He has also showcased his athleticism with four steals during that time. Thompson has worked his way into the Dodgers' lineup and, even when Puig is healthy again, it looks like it's going to be hard to get him out of it. Trust Trayce.