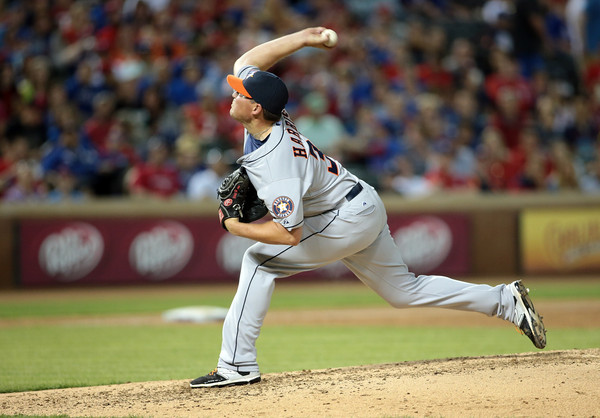 Written by Brian Murphy
06 June 2016
An entire bullpen's success is critical to a team's success, but it's those ninth-inning pitchers who get the glory, especially in fantasy baseball. This week, a few teams made news regarding their closer situation that all fantasy owners should know.
Houston Astros
We are on the precipice of a changing of the guard deep in the heart of Texas. Luke Gregerson blew yet another save opportunity Saturday when he gave up a two-out, game-tying home run to Oakland's Jed Lowrie. That earned him a hearty chorus of boos from the Houston faithful and a seat on the bench thanks to manager A.J. Hinch. It was the second straight blown save for Gregerson and his fifth of the year. On Sunday, Hinch said he will "ease off" Gregerson as the closer for a bit and give others an opportunity to shut the door. That opportunity on Sunday went to Will Harris, who needed just 11 pitches to set the A's down in order. Harris' season ERA is now an unbelievable 0.34. He hasn't allowed a run since April 7, a span of 25 consecutive scoreless appearances. It's important to note that fireballer Ken Giles was unavailable after throwing two innings on Saturday and it's unclear whether Harris or Giles will get more chances from here on out. But you can't argue with Harris' numbers, and he looked the part in Sunday's audition. He needs to be owned in every league.
Milwaukee Brewers
Jeremy Jeffress hasn't really done anything to lose his role as the Brewers' ninth-inning man. He is 15 for 16 in save chances with a 2.36 ERA and a 1.09 WHIP. However, it appears a closer committee is nigh in Milwaukee. Will Smith was the slight favorite for saves when the team entered spring training, but a knee injury had sidelined him since late March. That was until he was activated from the disabled list Tuesday. Manager Craig Counsell said Wednesday that once Smith "gets his feet on the ground," he would feel equally comfortable with using Smith or Jeffress to get a save. Uh-oh. Smith has just one save in his five-year career, but he recorded a 2.70 ERA over 63.1 innings in 2015. His strikeouts per nine rate was 12.9. The Brewers may not win a lot of games, but it's worth picking up Smith even if you are already rostering Jeffress. Some clarity here soon would be nice.
Tampa Bay Rays
Brad Boxberger's return to the Rays didn't last long. Like the Brewers with Smith, the Rays wanted Boxberger to get a few lower-leverage outings under his belt before regaining closing duties from Alex Colome. However, he couldn't make it through even one inning. He allowed two runs in 0.2 innings during his season debut Tuesday before suffering what was later diagnosed as an oblique strain. That's alarming because Boxberger had just completed his recovery from core muscle surgery, and the new injury is apparently on the same side where the surgery took place. As it is, he's back on the self for quite a while, and Colome, whose time as Tampa Bay's closer appeared to be running out, is locked in to that gig for the foreseeable future. He has been dynamite, too. Colome has permitted just three runs in 25 innings to go with a 34:6 strikeout-to-walk ratio. He has finished off each of his 15 save chances. Whenever Boxberger returns, he won't get his old job back if Colome continues to pitch this well.