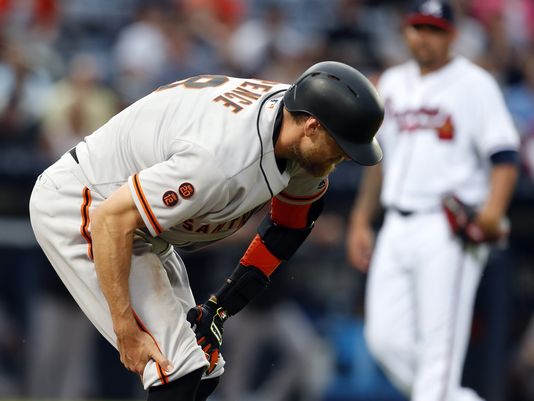 Written by Brian Murphy
06 June 2016
Major League Baseball is a grind. No matter how finely tuned, these athletes will inevitably find themselves worn down, sometimes to a point where something gives way. In the past week, there were a bevy of fantasy-relevant players who saw their bodies break down in some form or fashion.
Miguel Sano, OF, MIN
The Twins' big slugger will miss at least a few weeks with a deep strain of his left hamstring, which he suffered while running to first on Tuesday. Not that there's really any "good" time for a player to have an injury, but the hamstring strain comes an awful time for Sano, who was really heating up after a slow April. He hit eight homers in May, including one in four consecutive games in the week prior to his injury. Sano's absence has opened up a spot for toolsy-but-raw outfielder Max Kepler, who was a preseason top-30 prospect, according to Baseball America.
Hunter Pence, OF, SF
Speaking of hamstring injuries, Pence would probably feel fortunate if he was in Sano's situation. Alas, Pence's right hamstring is in much worse shape; he tore its tendon completely off of the bone on Wednesday. He needs surgery and will be out for multiple months. Jarrett Parker has replaced Pence in the Giants' outfield. The left-hander, who went deep Sunday night, has prodigious power and a three-homer game already on his MLB résumé. Less appealing, Parker has struck out in 14 of his 39 at-bats and is barely above the Mendoza Line this season.
Felix Hernandez, SP, SEA
The Mariners' ace is waiting for his strained right calf to heal. He was put on the disabled list Wednesday, and it looks as if he will miss more than the requisite 15 days. Hernandez's ERA is just 2.82, but his velocity is down significantly and the strikeouts have followed south. Meanwhile, his 3.71 walk rate is a career high. For Felix owners, once he returns, hope that he puts together a couple of nice starts and then try to sell his low ERA and substantial name value. The "King" isn't who he used to be.
Yasiel Puig, OF, LAD                       
Puig was DL'ed on Friday with a strained hamstring. It's the chic injury, apparently. Perhaps the time off will allow Puig to clear his head following a dreadful start to the season. He owns a .237/.283/.360 slash line. He is still swinging at way too many pitches out of the strike zone, and nearly 30 percent of his fly balls have been infield pop-ups. There is still plenty of potential – Puig is only 25, and what he did in 2013 and 2014 was not a total fluke – but fantasy gamers need to add Trayce Thompson while Puig is out. He has hit nine home runs and stolen four bases in just 122 ABs this year while putting up a .928 OPS. Klay's little brother has his own athletic star qualities.
Giancarlo Stanton, OF, MIA
Stanton sat out seven games with pain in his side before returning to the Marlins' lineup on Thursday. That's the good news. The bad news is he is still hitting just .202 with one home run and two RBIs in his last 12 games. Stanton was not in Miami's lineup Sunday. The word is it was just for rest, but it's clear that he's not playing at near 100 percent right now. I would advise Stanton's owners to just ride it out and hope that whatever was bothering him is now history.
Mark Teixeira, 1B, NYY
Teixeira's season may already be over after a Saturday MRI revealed an articular cartilage tear in his right knee. The Yankees will wait to see how his knee responds to rest before possibly going forward with season-ending surgery. Teixeira had been a black hole for fantasy owners thus far – three HRs and a .180 average in 167 at-bats – and the Yankees are running low on options at first base. They have already lost Greg Bird and Dustin Ackley for the duration. Rob Refsnyder is getting the first crack at replacing Teixeira, and he is worth tracking in especially deep formats. Refsnyder has a career .294 average in the minors to go along with moderate pop and speed.
David Wright, 3B, NYM
From The Bronx to Queens, the Mets will be without the services of their captain for a long, indefinite period. He won't do any baseball activities for 6-8 weeks due to a herniated disc in his neck. This kind of stuff will be sort of the norm for Wright for the rest of his career as he was diagnosed with spinal stenosis in 2015. While he's a shell of his former All-Star-level self, seven home runs in 137 at-bats made him worthwhile in some leagues. There's nothing to see in his replacements, Wilmer Flores and Ty Kelly.
. That earned him a hearty chorus of boos from the Houston faithful and a seat on the bench thanks to manager