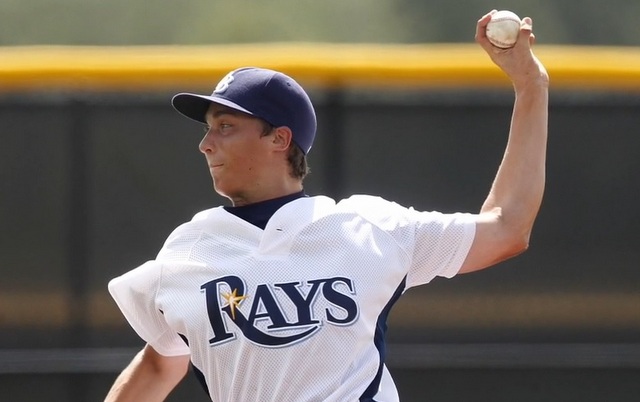 Written by Brian Murphy
09 May 2016
Any fantasy owner can pick up a bashing batter or a filthy starting pitcher after their MLB feats of success. But championship-winning owners look deeper. These players are currently not playing in the majors, but they deserve your attention. Get in front of your competition now with these soon-to-be fantasy contributors.
A.J. Reed, 1B, HOU: The Astros are 12-20 and are not getting as much as they would like out of their first basemen or designated hitters. So when will they call upon Reed, a top-15 prospect entering the year, according to Baseball America. Last season, the big man – he stands 6-foot-4 and at 275 pounds – slugged 34 home runs, drove in 127 runs and hit .340. Moreover, he walked 85 times. He hasn't been quite as successful this season – entering Sunday, he was slashing .235/.339/.480 – but is still showing his usual patience and power; he had compiled 16 walks and six home runs in 26 games. Those skills will carry over once Reed gets to Houston. That time shouldn't be far off.
Devon Travis, 2B, TOR: I mentioned Travis at the end of my article about possible replacements for the suspended Dee Gordon from last week. Let me expound on my thoughts here. Through his first 36 games as a rookie last year, Travis had an .833 OPS and 17 extra-base hits. Then he was bit by the injury bug for the first time. His season would end in July due to a injured shoulder that was repaired over the most recent winter. On Thursday, Travis played in the field during an extended spring training game for the first time since his surgery. The hope is he will be back to the big leagues by June. The Blue Jays could use him; their second basemen have a collective .564 OPS, fourth-worst in baseball. Another positive for Travis' fantasy stock is that once he returns to the lineup, he might find himself batting leadoff for Toronto's powerful offense.
Blake Snell, SP, TB: The Rays have already started Snell's clock. He was called up for a spot start on April 23 and pretty much baffled the Yankees in New York. He permitted one run on two hits through five innings. He struck out six and walked just one. On that day, Snell showed off the repertoire that helped him become Baseball America's 2015 Minor League Player of the Year. He has a mid-90s fastball, a huge 12-to-6 curve and a good changeup. The 23-year-old knows how to get MLB hitters out right now and whenever there is an opening in the Rays' rotation, he'll receive a chance to get them out in bunches once again.