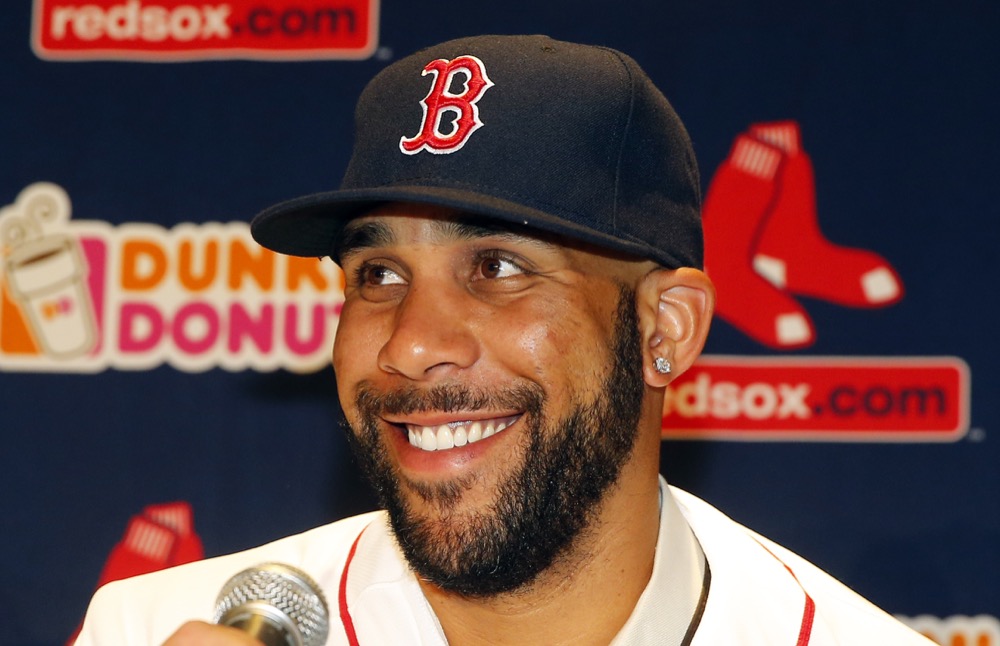 Written by Brian Murphy
09 May 2016
It's no secret that David Price has gotten some rotten results in his first season with the Red Sox. He has a 6.75 ERA through seven starts. He leads the league in earned runs allowed. The Yankees' anemic offense has scored 12 percent of their season total in runs against Price just this month. So, what's up and should fantasy owners do with Price?
Everyone wants to point to Price's fastball velocity, which has averaged 92 MPH. He sat at just above 94 MPH last year, so the drop is clearly significant. Still, even after his two most recent starts in which he struck out a total of seven batters in 11.2 innings, Price is averaging 11.5 Ks per nine, way above anything he's done previously. During his Saturday start in New York, he topped out at only 93.5 MPH, a career low, but let's see if the strikeouts continue to diminish. In general, Price has shown this year that less fastball velocity isn't keeping him from accomplishing one of a pitcher's main missions: miss a ton of bats.
Price is still a high-quality starting pitcher. His FIP, xFIP and SIERA all say so as each one is less than 3.00. Obviously, some bad luck has played a major role in Price's struggles. He owns a .373 BABIP and a strand rate (54.4 percent) that is 20 points lower than his career average. Those types of things tend to right themselves as the season continues.
However, I can't put a pretty face on all of Price's numbers. While his BABIP is very high, it's not as if hitters are getting a bunch of cheapies off of him. Price currently has a hard-hit percentage of 41.2; he has never topped 30 in that category in his career. That number is very concerning and odd for the pinpoint craftsman Price is. Yet, entering Sunday, the only qualified starting pitcher with a greater hard-hit percentage was Chris Archer, at 41.4.
Archer is another ace who came out of the gates getting knocked around the yard. But in the past couple of weeks, Archer has returned to his previously brilliant form, allowing just two earned runs and only 17 baserunners over 18.2 innings. Thus displaying that sometimes those hard hits just don't fall. They are falling against Price right now, but that should change.
I don't think the permanent move to the American League East or the pressure of a $217 million contract are playing parts here either. Price often dominated this division late last year while on the Blue Jays. The Red Sox have said Price is healthy, so perhaps it all boils down to some unknown mechanics that need to be cleaned. But as long as the K rate stays up and the walks stay down, Price is going to rediscover his greatness.
Now would be a good time to see if you could buy low on Price. On Sunday alone, he has been dealt in Yahoo leagues for Bartolo Colon (twice!) Josh Harrison and Jordan Zimmermann, which seems like a perfect buy-low, sell-high trade.
I trust Boston's words about his health, and even after more than 1,500 career innings pitched, I don't believe the 30-year-old Price is over the hill. I am not that alarmed yet by the velocity dip. If he strikes out only 3-4 batters per start – as he's done in his last couple – then I would become very worried. But Price is by and large getting plenty of whiffs and has the metrics backing him up to say that he is no way near this bad of a pitcher and should see his fortunes change in time.
In short, go get David Price. Getting walloped by the Yankees will certainly lower his market value. Buy low and benefit when Price, barring injury, inevitably turns his season around.