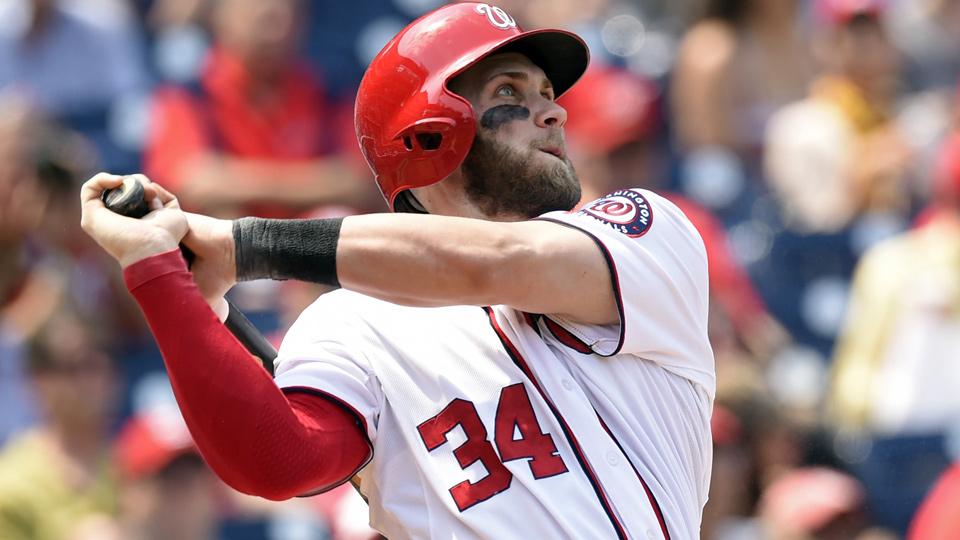 Bryce Harper set Nationals Park ablaze Wednesday afternoon with a performance to remember. The Washington right fielder went 3-for-5 with 3 home runs and 5 RBI, becoming the youngest player since 1969 to hit three homers in a game. It was the kind of monster display that fans have been anticipating since the highly-touted Harper first made his debut three years ago as a 19 year old.
It's been somewhat of a winding road for the Nationals phenom since ascending to the big leagues, as his MLB fantasy owners can attest. Harper hasn't always put up the pure, eye-popping numbers that some thought he would after arriving on the major league stage to extensive fanfare. He hit .272 from 2012-2014 and set his present career-high marks with 22 HR and 59 RBI in his first season. Not figures to scoff at by any means, but definitely a few cuts below the lofty expectations pinned on Harper from the time he graced the cover of Sports Illustrated as a 16 year old.
Often overlooked is the fact that despite this already being his fourth season in Major League Baseball, Harper is still only 22 years old. He is actually younger than several of the game's other bright neophytes, including Mike Trout, Yasiel Puig, and Manny Machado. The MVP-level production will come, and if the early returns in 2015 are any indication, they might be on the way quite soon. After Wednesday's powerful display, Harper has 8 homers and 20 RBI at this early stage of the season. He is also putting up a .265/.416/.561 batting line. Fantasy owners should take note of that .416 OBP: he's drawn an MLB-leading 26 walks so far.
Some might claim that Bryce Harper's chief MLB fantasy appeal will come in his home run output. His current .265 average does leave something to be desired, but if he maintains this kind of plate discipline, it's hard not to like his prospects of becoming a much more well-rounded player for fantasy purposes. He collected a career-best 61 walks in 2013 and he is more than poised to shatter that number this year. Harper fantasy owners can rest assured that as long as he stays healthy he will be a major factor this season. He should only improve in the years to come as well.
For the best fantasy baseball news, including fantasy baseball sleepers and starting lineup advice, keep reading ASL!