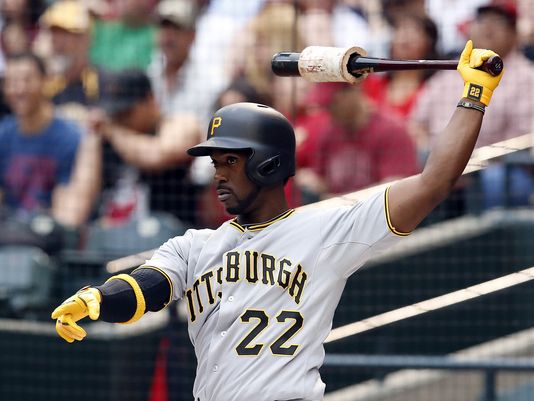 When a former MVP's MLB fantasy value starts to plummet, fantasy owners are faced with a very tough choice. Do you hold the player and hope that his MLB fantasy stock will rebound or do you cut your losses and move on in a different direction? That's the hard reality facing any team that's watching a hobbled Andrew McCutchen struggle through game after ugly game. It's not exactly breaking fantasy baseball news that the Pirates outfielder is batting a miserable .194 this season with only two home runs and no stolen bases.
Normally a six plus win player (based on WAR), McCutchen is only carrying a .2 WAR through this point in the season. However, the season is still very young and McCutchen could bounce back if the Bucs are smart enough to let him rest his ailing knee. It would be easy to overreact, assume that you as a fantasy owner are stuck with him for the season. But, the alternative is a much better outlook. Assume that things will turn around for McCutchen—because with a little rest, they probably will.
Throughout his career, April has consistently been McCutchen's worst month of the season. During the month of April, he holds his lowest batting average, lowest hit total, lowest home run total, lowest walk total and his lowest monthly OPS. Yet with all of these repeated slow starts, McCutchen has won an MVP and been voted third in the race two other years. He has proven that he can overcome the slow Aprils and put in a fantastic season.
As a fantasy owner, there is obviously room for concern, but it's still too early to panic. Monitor his injury closely, but bank on him bouncing back with the coming flip of the calendar. Count on Cutch—at the very least, he's earned that from you.
For the best info on fantasy baseball sleepers and advice, tune into ASL!